Were you a fan of "helper" seasoning mixes? Welcome to your all-natural, do-it-yourself, A-to-Z upgrade! No salt, no oil, no sugar—and, of course—nothing artificial. Gluten-free, low-carb, vegan, Paleo-friendly, and keto-friendly.
Click to get more Easy, Healthy Recipes
Preparation Time

20 minutes

Cooking Time

8 hours

Difficulty Rating

1

Health Level

4

Serves

16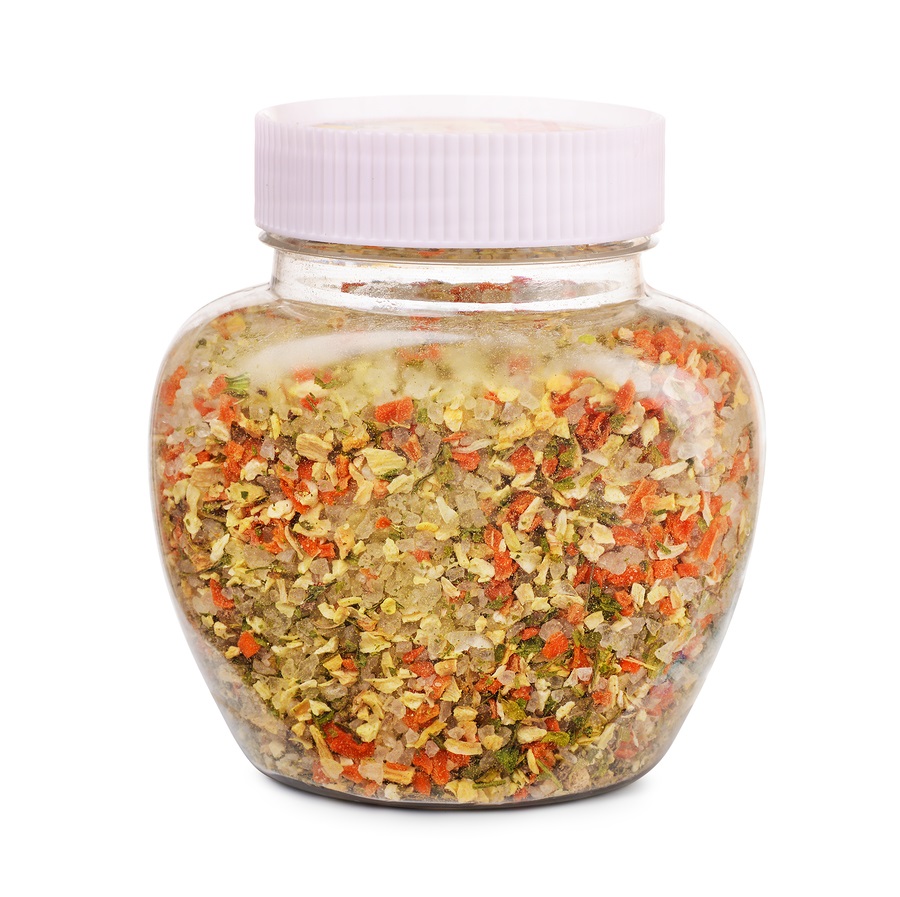 Ingredients
1 Tbsp. / 14 ml olive oil
1 small onion, chopped
1 cup / 70 g fresh mushrooms, chopped
1 small leek, chopped
1 medium stalk celery, chopped
1 medium carrot, chopped
2 cups / 480 ml water or vegetable broth/stock, preferably low-sodium and organic
½ cup / 40 g seasonings*
2 Tbsp. / 14 g whole grain, arrowroot, or tapioca flour
*Seasonings
Select any of the following, fresh or dried**, alone or in combination:
Achiote/Annatto
Allspice
Arrowroot Flower, chopped
Asafetida
Basil ~ lemon, sweet, and/or Thai
Bay Leaf
Cardamom
Caraway Seed
Celery Seed
Chervil
Chives
Cilantro/Coriander ~ Leaf and/or Seed
Cinnamon
Cloves
Cumin
Curry Blend
Curry Leaf
Dillweed
Epazote
Fennel, chopped
Fenugreek
Garlic
Ginger
Grains of Paradise
Horseradish
Hyssop
Indonesian Bay Leaf
Juniper Berry
Kaffir Lime Leaves
Lavendar
Lemon Zest
Lime Zest
Loomi
Lovage
Mace
Mahlab
Marjoram
Mint ~ any type
Mustard Seed ~ black, white, and/or yellow
Nutmeg
Nutritional Yeast
Orange Zest
Oregano
Paprika ~ hot, smoked, and/or sweet
Parsley
Peppercorns, whole or ground ~ black, chili, green, pink, smoked, and/or white
Pepper Flakes ~ chili or sweet bell
Perilla (Shiso)
Quassia
Rosemary
Safflowers ("Spanish Saffron")
Saffron
Sage
Sassafrass
Seaweed ~ Nori, Dulse, Wakami, etc.
Shiso (Perilla)
Star Anise
Sumac
Summer Savory
Tamarind (the main Worcestershire sauce seasoning)
Tarragon
Thyme ~ French and/or Lemon
Turmeric
Vinegar ~ apple cider, balsamic, red wine, white wine, etc.
Wasabi
Yerba Buena ~ any type
Za'atar ("Holy Hyssop" Blend)
Summer Savory
** dried = about ¼ the quantity of fresh
---
Directions
In a lidded non-stick sauté pan, warm the oil over medium-high heat.
Add the onions, and sauté until lightly translucent and browned.
Add the mushrooms and leeks, and sauté until just tender.
Add the celery, carrots, and broth/stock, along with ¼ cup / 20 g of the seasonings (half the total amount).
Cover pan and reduce heat to low. Cook for 15 minutes.
Fit a food processor or high-powered electric with a steel blade attachment. Drop the vegetables inside, and pulse until finely chopped, then add carrots and mushrooms and process until finely chopped. Turn it off, add onion, and pulse until roughly chopped.
Empty contents into a dehydrator or onto a baking sheet lined with parchment paper, spread out as thinly and evenly as possible, and dehydrate or bake at 115°F / 45°C (or on the lowest oven setting) for 8 hours. If using a standard oven, leave the door slightly ajar for air circulation.
When sufficiently dried, allow to cool before pouring contents into jar or canister.
To use, sprinkle like seasoning over food during cooking as is, or reconstituted with water or additional broth.
Store in a closed container in the refrigerator (for up to 3 days) or in the freezer (indefinitely) to preserve freshness and maximum flavor.
Serving size:
Free
Exchanges per Serving:
1 Tbsp. / 7 g
---