This is an impressive breakfast/brunch dish – a bit of a twist on Eggs Benedict, using healthy ingredients.
Click to get more Easy, Healthy Recipes
Preparation Time

10 minutes

Cooking Time

10 minutes

Difficulty Rating

2

Health Level

4

Serves

2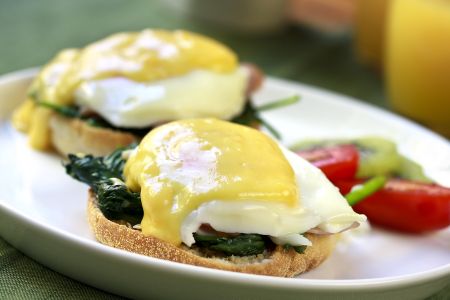 Ingredients
2 medium omega-3 or pastured eggs, preferably organic
2 slices of 100% whole or sprouted whole grain (SWG) bread (sourdough adds great extra flavor)
2 oz / 57 g fresh kale or spinach, hard stalks removed
1 oz / 28 g slice lean deli ham, preferably uncured, chopped into small pieces
6 button mushrooms, chopped into small pieces
1½ tsp. / 7 ml olive oil
1 tsp. / 1 g fresh parsley, finely chopped



Hollandaise Sauce

2 omega-3 or pastured egg yolks, preferably organic
4 tsp. / 20 ml water
2 tsp. / 10 ml freshly squeezed lemon juice
1 tsp. / 5 g butter, preferably organic pastured
---
Directions
Heat the oven to 170°C/ 325°F/Gas mark 3.
Flatten the bread with a rolling pin so that it is a little more thinned out than a normal slice. Using the edge of a large wine glass or coffee mug, cut out a circle from the middle of the bread. If you have a circular cutter, about 10 to 4-5 inches / 12 cm in diameter, use this instead.
In a non-stick pan, heat 1 teaspoon/ 5 ml oil, and lightly sauté the chopped mushrooms (the natural moisture in the mushrooms should be enough to prevent sticking.)
Mist or brush remaining olive oil lightly into 2 ramekins (if you multiply this recipe, you can use a muffin tin), and place the bread circles into each compartment. Put into the center of the oven to bake for 8 minutes.
In a saucepan, add the spinach with a little water and cook on a very low heat until just soft. Remove the spinach from heat and squeeze until it is as dry as possible. Place a portion of the spinach onto each bread circle, along with a few pieces of lean diced ham and a small amount of the chopped mushrooms.
Crack one egg, centrally, into each bread container so that the yolk sits at the top of the mixture, but the white surrounds it.
Place back into the oven and bake for 5 minutes, until the egg is firm and not undercooked (much like a poached egg). If the egg is still 'watery' on top and opaque, continue baking for an additional minute. According to the traditional recipe, the egg should not be hard.
Make the hollandaise sauce just before serving. Place the egg yolks, water, and lemon juice in a blender, and whisk briskly. In a saucepan over medium heat, melt butter, remove from the heat and pour into the blender in a thin, steady stream.
Pour the Hollandaise sauce over the egg, and sprinkle the chopped parsley over the breakfast cups.
This is best served alongside herbed grilled tomatoes.
Eggs are a great part of a balanced diet as long as they are the right type that yields 'good' fats. Eggs naturally contain high-quality protein, shown to prevent hunger, and are rich in nutrients good for eye and brain health. Baking eggs can be a much healthier option than frying, as no oil or butter is added.
Serving size: 1 'cup' (1 egg + 1 slice of bread)
Exchanges per Serving: 1 Carb, 2 Protein, 1 Fat
---