Making the crust with butter and lard means that it won't be kosher or vegetarian, but it will produce one of the best-tasting, easiest-to-make crusts in the known universe. And it is just as delicious with coconut oil! This light pumpkin pie is a great end to a heavy meal, and the key to its taste is making the caramel as dark as possible without burning the sugar.
Click to get more Easy, Healthy Recipes
Preparation Time

15 minutes

Cooking Time

65 minutes

Difficulty Rating

2

Health Level

3

Serves

16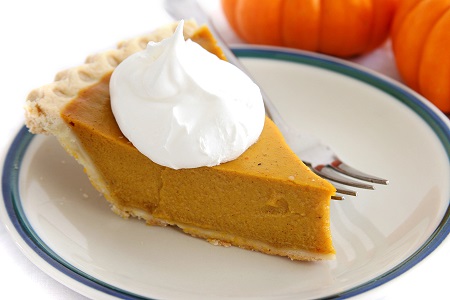 Ingredients
Crust
1⅓ cups / 160 g whole grain flour or gluten-free baking blend
3 Tbsp. / 85 g chilled unsalted butter and 3 Tbsp. chilled lard, cut into .5-inch cubes (preferably organic or pastured)or 6 Tbsp. + 1 tsp. / 95 g chilled coconut butter, macadamia, or hazelnut oil (or blend)
1 Tbsp. / 8 g unrefined sugar (preferably whole cane or coconut)
½ tsp. / 3 g salt

2-4 Tbsp. / 30-60 ml ice water, more if you need it
Filling
⅔ cup / 80 g unrefined sugar (preferably whole cane or coconut)
2 Tbsp. / 29 g unsalted butter (preferably organic pastured) or macadamia or hazelnut oil
¾ cup / 180 ml half-and-half, place on counter to warm while making the pie crust or:

the liquid layer of chilled full-fat coconut milk, under the cream top

⅔ cup / 160 ml heavy whipping cream, place on counter to warm while making the pie crust or:

coconut cream (the top layer from chilled full-fat coconut milk)
soy/rice-based whipping cream

2 large eggs (preferably organic omega-3 or pastured) or:

2½ Tbsp. / 40 ml flaxseed gel* + mixture of 1½ Tbsp. / 12 g flour-based egg white replacer whisked with ⅓ cup / 80 ml water (or 3 egg whites-worth per specific product instructions)

1 large egg yolk (preferably organic omega-3 or pastured) or:

1 Tbsp. + 1 tsp. / 20 ml flaxseed gel

1 cup / 240 cooked mashed or canned pumpkin
2 tsp. / 4½ g ground cinnamon
¾ tsp. / 1⅔ g ground nutmeg
¼ tsp. / ½ g ground allspice
¼ tsp. / 1½ g salt
* Total flaxseed gel needed: ¼ cup / 60 ml. Make by grinding ⅓ cup / 56 g whole flax seeds with 1 cup / 240 ml warm water in a food processor or food chopper with an "S" blade for 30 seconds, until the liquid becomes slightly thicker, opaque, and foamy. Strain and capture gel through a fine-mesh colander, agitating with a rubber spatula.
Used seeds can be frozen and reused at least once more.
---
Directions
Crust
Preheat oven to 375°F / 190°C.
In a food processor or by spoon, mix flour, sugar, and salt. Add butter and lard or coconut oil and process (brief pulses work best) or crumble together by hand until it has the texture of coarse meal.
Add 2 tablespoons / 30 ml ice water, more in 1-teaspoon / 5-ml increments, if needed, and continue to mix until moist clumps form. Knead the dough and shape into a disk, then wrap in plastic and allow to chill in the refrigerator for 1-2 hours.
On a clean surface sprinkled with flour, roll the dough to a thickness of approximately 1/8-1/4-in / 1/5 – 2/5-cm, then trim to a circle with a 12-inch / 30 cm diameter.
Place in a 9-inch / 23-cm pie dish. Fold overhanging dough under and crimp the edges if you want. Chill 1 hour.
Bake crust until edges brown lightly, about 15 minutes. Cool slightly and reduce oven temperature to 350°F / 180°C.
Filling
Whisk the 2 eggs and the yolk or substitutes in a large bowl. Then add pumpkin, salt and spices. Set aside. Traditionally, you make caramel by adding water to sugar. This method uses no water, so it's much faster and easier but keep a close eye on it.
Place the sugar in a medium saucepan and set over medium high-heat, stirring occasionally with a heat-proof spoon until sugar dissolves.
When the molten sugar reaches that dark amber of bittersweet richness, remove pan from heat. Toss in the butter or oil, which will make the caramel bubble, so stand back.
Whisk when bubbling subsides, then add half-and-half or substitute in a thin stream, then the cream or substitute, until all the caramelized sugar dissolves. (You don't want to add too much cold liquid too fast or your caramel will become a cold blob.)
Now slowly pour caramel mixture into pumpkin mixture, whisking
Pour filling into crust and bake until pie puffs around the rim and sets in center, about 50 minutes.
Cool pie on rack, then chill. You can make this the day before Thanksgiving, although you should keep it chilled. Also, good luck not eating it for breakfast.
Serve with real whipped cream (instructions on the carton) or dairy-free (recipe here).
Serving size:
2 oz / 56 g
Exchanges per Serving:
1 Carb, ⅓ Protein, 1 Fat
---