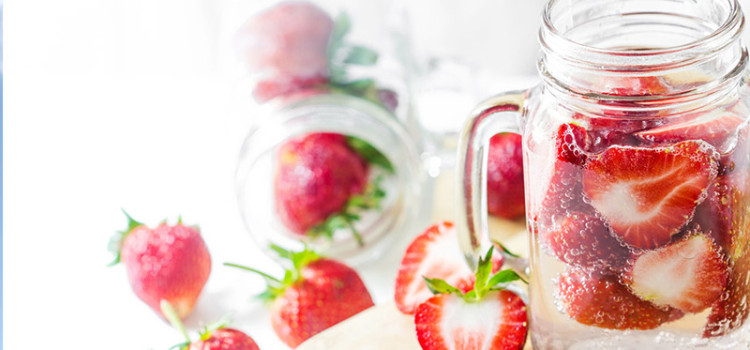 Detox water is perfect for all those times when we're really tired of drinking yet another glass of water—and making it is easy.
TrimDownClub, Apr 08, 2015
Yes, we know that we're supposed to drink a lot of water: 8 glasses a day, or more. We know it revs our metabolism and satisfies our thirst. Most of us know that commercial fruit juice is no better for us than soda. And more and more of us are realizing that artificial sweeteners actually often increase both our waistlines and risk of diabetes.
But… sometimes plain water just gets boring. While hot tea just seems wrong for the season and iced tea does not appeal.
Enter detox water. In fact, it's killed our soda cravings for good.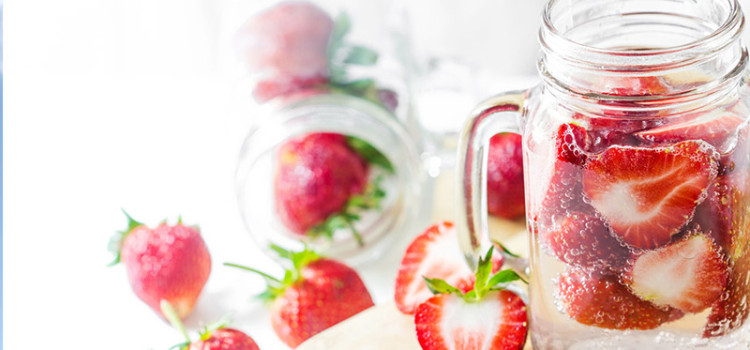 What is it?
Detox water is also known as fruit infused water, infused water, or fruit-flavored water.
Making it at home is easy, fast, and tastier, cheaper and better for you than anything in the store.
The basic detox water recipe consists of half a gallon or two liters of purified or distilled water, some thinly-sliced fruit or vegetables (see instructions), and some spices or herbs. You are limited only by your imagination, but the following recipes will have you creating your own detox water recipes in no time.
Antioxidant Spa Detox Water
2 limes, thinly sliced
16 strawberries, thinly sliced
About 24 basil leaves, torn and bruised (feel free to substitute mint if you prefer)
Apple-Spice Detox Water
1 apple, thinly sliced (if your favorite is a small varietal, use 2)
1 cinnamon stick
Optional: ½ cup / 70 g cardamom pods, lightly cracked
Classic Spa Detox Water
1 cucumber, thinly sliced
1 lemon, thinly sliced
Optional additions (mix and match to your taste):
1 lime, thinly sliced
½ cup / 90 g pomegranate arils, lightly bruised
½ cup / 70 g juniper berries, lightly cracked
About 24 basil leaves, torn and bruised
About 24 mint leaves, torn and bruised
About an inch of ginger, peeled and sliced to the thickness of a coin
Grapefruit Detox Water
2 grapefruits, sliced thinly (or an equivalent amount of citrus fruits to your taste)
Mango and Ginger Detox Water
1 whole mango, peeled and cubed
About an inch of ginger, peeled and sliced to the thickness of a coin
Watermelon Mint Detox Water
About 24 mint leaves, torn (feel free to substitute basil if you prefer)
2 cups / 150 g cubed watermelon
Pepperberry-Kiwi Detox Water
2 cups / 260 g fresh or frozen, red or black raspberries
2 kiwifruits, sliced thinly
½ cup / 70 g whole black peppercorns, lightly cracked
Blue Nectarberry Detox Water
2 cups / 300 g fresh or frozen blueberries or bilberries, lightly cracked
3 nectarines and/or peaches, sliced thinly
Instructions
Before slicing, wash produce with this fruit and vegetable wash to remove dirt and pesticide residues. (The link takes you to an excellent one, using common kitchen ingredients.)
Place ingredients in a half-gallon or 2-liter pitcher.
Fill with your choice of still water. (Do not use sparkling water for this; it will lose it's fizz during the steeping time. (teachingchannel.com) )
Allow the detox water to steep 4 hours or more in your refrigerator (for the best flavor, allow to steep overnight) then drink throughout the day. Detox water will stay fresh for 24 to 48 hours.)
You can usually reuse the ingredients 2 or 3 times before they lose their flavor.
For a super-light, super-tasty alternative to soda, use fragile fruits, such as berries or citrus, and herbs like mint. Muddle, or bruise gently, in a glass, then add sparkling water. Enjoy immediately.