The holidays have loaded many of us down with excess fat and sugar. It's time to get back to a healthy routine. How to succeed? Here are 10 helpful tips.
The holidays are behind us, along with lots of downtime and lots of food all around. Lavish family meals, social events, and lots of holiday snacks (packed with salt, fat, and sugar) are all behind us and now it's time to return to a nutritious routine –or start a new one to shed the unnecessary weight we've accumulated throughout the holiday season.
How can this be achieved? First of all, it requires a conscious decision to start now and not tomorrow! Don't spare any time in getting back to eating the right proportions and to take a few confidence-building steps. Here are ten tips to get you started: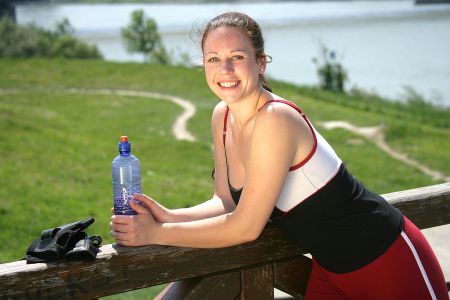 1. Start right now

Procrastination only increases the damage because it's too easy to justify another slice of cake or other rich dessert because "I'm starting a diet tomorrow".
2. Conceal the snacks
Give up or cut way back on the snacks and extras that don't contribute much by way of nutrients. These can be obvious like potato chips, or sneaky like salad dressing. We have a tendency to avoid counting them, but they're actually a significant player in the weight gain arena.
3. Reduce the consumption of sugar-sweetened and alcoholic beverages
Sugar-sweetened beverages like juice or soda have significant caloric value, and don't really contribute much to quenching thirst in the long run: so you just drink more and don't realize it is like munching candy. Drink plenty of water and herbal or green tea sweetened with natural noncaloric sweeteners. You'll not only feel better on the spot, you'll have no regrets later.
4. Control the damage in spreads
You don't have to give up bread, but avoid putting large amounts of sweet or fatty spreads on slices of bread, especially those that do not contribute to health – and no, we don't recommend using low-calorie breads as an excuse to overdo. High-fat spreads that also have undesirable types of fats (i.e., saturated) include cream cheese (30% fat), deli-type cheese (30% fat), butter (80% fat), mayonnaise (74% fat), and chocolate spreads (28% fat). Spreads high in simple sugars included the chocolate , honey, and low-fruit jams, jellies, and preserves. It's best to replace them with lighter, healthier spreads, like cheeses with up to 5% fat, tuna in water or canola/olive oil, avocado, organic hummus or tahini, and fruit-only preserves.
5. No cold turkeys
Don't start the change all at once and in an extreme way. Remind yourself that you didn't gain the weight all at once, so it's reasonable to believe that it will take some time to lose it. We know that no one can stay on a restrictive diet forever, because it's so hard on your body–and because rebound weight gain is the inevitable result.
6. Better fiber
Choose foods rich in nutritional fibers like sprouted whole grain breads and cereals, oatmeal, and legumes/pulses. Nutritional fibers can also be found in vegetables and in some fruit peels – but not in processed fruit juice or fruit "drinks". Nutritional fibers improve the body's metabolism and the energy output on food digestion. In addition, they balance your blood sugar level and provide a feeling of fullness.
7. Tread carefully in high-density areas
Be aware of which foods are the most energy dense or "rich," and keep in mind that a little goes a long way. Foods like nuts can be a highly nutritious part of a diet, and especially important for vegans as a source of protein, but chewing on them mindlessly and virtually without limits – as you might a lighter snack like popcorn – can translate to trouble for your weight goals.
8. Exercise
Move in ways you enjoy. If the weather allows it, go for a walk outside, and if not, you can always exercise indoors.
9. Eat in an orderly fashion
Have small meals every 3-4 hours. The stomach is a muscle that has expanded throughout the years, especially after "explosive" holiday meals. The idea is to make the stomach feel like its capacity has shrunk – so the feeling of fullness will arrive even after eating smaller amounts of food. The Trim Down Club gives you everything you need to create balanced weight loss meals.
10. Get Support
Share your goals with people who can best support you and keep you on track. Making sure your family is on board with your new plan can make all the difference.
Most of all, be kind to yourself…you can do it!