Anyone who has tried to diet knows the all-day feeling of hunger that threatens long-term success: you might be good for a couple of hours, days, weeks, even months, then bad habits creep back in, you binge, and you're back to square one – or square minus one, because you've probably gained more than you lost and threatened your well-being in the process.  Here we explain how you can stay fuller for longer by eating more of the right foods.
Many studies conducted around the world claim that one of the reasons for the failure of the diets is because of hunger and satiety mechanisms in the brain. These mechanisms are influenced by both – and often interrelated – physiological and psychological factors.
Physiological factors include hunger hormones such as ghrelin, and satiety hormones such as leptin. When the brain receives hormonal hunger signals, we feel hungry and crave food. When we have had enough food, these signals stop, and are replaced by satiety hormonal signals, which serve to stop food-seeking behavior. Ghrelin and leptin often determine the success – or failure – of the process of slimming and maintaining lost weight.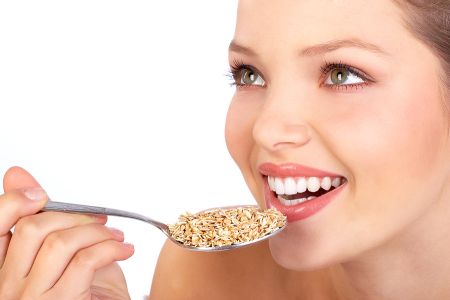 Psychological factors are related to our mental state and response to the stimuli around us. We often eat when bored, in a bad mood, anxious, or depressed, and sometimes even when we're happy and excited about something. Equally we often eat in the room when the scents of enticing foods, when the table a large selection of dishes, when we see a television advertisement to eat. The more and the longer we feel depleted, the more we crave energy-dense foods, high in fats and simple sugars.
One of the strategies to fight the feeling of hunger while dieting is to favor foods that delay secretion of the pro-hunger hormone while encouraging secretion of the pro-satiety hormone. In other words, foods that on the one hand are healthy and light, and on the other, will keep you feeling full longer.
Below is a list of food and meal features that may help reduce hunger and increase satiety:
Fiber is Filling
Both soluble and insoluble dietary fiber have been linked to improved appetite control.
Soluble fiber to intake was shown to result in decreased secretion of the hunger hormone ghrelin and consequently, reduction in the amount of food eaten at subsequent meals. This has been attributed to both the physical properties of the fiber in the stomach – as they absorb water, they expand in the stomach – as well as a beneficial effect on blood sugar levels, particularly by slowing of carbohydrate absorption into the blood. Soluble fiber found in fruits, oat bran, beans, barley, Jerusalem artichokes (sunchokes), asparagus, chicory root, and other root vegetables.
Insoluble fibers increase the act of chewing, thus contributing to increased levels of the satiety hormone leptin. They also reduce the absorption of some dietary components in the small intestine, thus reducing the amount of dietary energy (calories). They also aid bowel action and prevent constipation. Insoluble fibers come from the shells of grains, seeds, and some vegetables. Chewing also slows down eating, which gives the stomach time to send signals to the brain that it is full, thus enabling satiety to kick in before too much has been consumed.
Protein Makes Perfect
A protein-rich diet can cause a significant increase in the feeling of fullness, and is considered a great ally in a slimming diet. Some believe that it is part of the explanation for the success of low-carbohydrate diets. Eggs especially have been observed to promote satiety, particularly if eaten at breakfast.
Mechanisms by which proteins create a feeling of fullness are not clear, but include two central possibilities. One is the increase in the concentration of acids, which in turn causes an increase in satiety hormones and decrease in appetite. The other is that proteins buffer the effects of dietary carbohydrates, thereby tempering blood sugar and insulin spikes and drops that cause hunger unrelated to need.
Protein-rich foods include legumes, nuts, seeds, mushrooms, and some grains and vegetables, as well as meat, poultry, seafood, eggs, and low-fat dairy.
Low-Calorie, High-Volume = Low-Appetite, High-Satiety
It is increasingly accepted that volume is key to satiety, perhaps even more so than calorie density. While hormonal response to adequate nutrients is key, the response to stretching of the stomach is just as important.
Several studies have found that eating dishes – large of foods low in calorie density at the beginning of the meal, reduces calorie intake later in the meal. One study found that subjects who ate a large salad (about 2 cups, 10 oz, or 300 g) at the beginning of the meal, eat fewer calories later in the meal, compared with those who did not eat salad.
Another study found that subjects who ate different kinds of vegetable soup at the beginning of lunch, significantly reduced the amount of calories they consumed later in the meal, compared with those who ate soup.
When It Comes to Carbs, Keep it Complex
Simple or fast carbohydrates – also known as sugars – are high in refined and sweetened foods, including regular sweetened beverages, cakes, and white bread and pastas. These leave the stomach very quickly and lead to blood sugar spikes and drops, whetting the appetite and causing the consumption of excess calories. In contrast, complex or slow carbohydrates – found in whole starch foods – leave the body gradually (also known as slowed transit time), which slows the secretion of pro-appetite hormones. These are found in starchy high-fiber whole-grains and their products, nuts and seeds, legumes, fruits, and vegetables.
Drink (and Eat) to Success
Drinking water before meals, and at dinner, has been shown to contribute to a feeling of fullness. Consuming foods with high water content – fresh salads and other vegetables, fruits, or soup – has been linked to an even greater effect.
Fired Not Fried
In addition to cooking – meaning steaming, boiling, sautéing, braising – baking – including grilling, broiling, roasting – is consistently recommended over frying in large amounts of oil, in general and especially in weight management. One of the reasons is that the energy density is much higher, which ironically means satiety is lower, with hunger soon to follow. Another is that frying results in damage to the oil, which generates systemic inflammation – linked to weight gain, especially in the high-risk belly area. In contrast, baking types of heating allow for fats to drip off, and cooking means higher water content, which reduces energy density and increases satiety without the disadvantages.
Like it Hot
Hot food has been shown to increase satiety compared to cold. For example, eating cold raw vegetables may be less satiating for the same amount of hot cooked vegetables. Further, a hot drink such as tea or coffee reduces the feeling of hunger, and especially the need for sweets. Slow sipping throughout the day on a hot beverage known to accelerate weight loss and boost health such as green tea can produce a triple whammy for weight loss.
Not being hindered by hunger creates a huge advantage in weight management. Satiety may not become second nature overnight, but these techniques can guide you and eventually put you on the winning side of willpower.

References
Rebello CJ, Liu AG, Greenway FL, Dhurandhar NV. Dietary strategies to increase satiety. Adv Food Nutr Res. 2013;69:105-82.
Rebello CJ, Johnson WD, Martin CK, Xie W, O'Shea M, Kurilich A, Bordenave N, Andler S, van Klinken BJ, Chu YF, Greenway FL. Acute effect of oatmeal on subjective measures of appetite and satiety compared to a ready-to-eat breakfast cereal: a randomized crossover trial. J Am Coll Nutr. 2013;32(4):272-279.
Forde CG, van Kuijk N, Thaler T, de Graaf C, Martin N. Oral processing characteristics of solid savoury meal components, and relationship with food composition, sensory attributes and expected satiation. Appetite. 2013 Jan;60(1):208-19.
Carter BE, Drewnowski A. Beverages containing soluble fiber, caffeine, and green tea catechins suppress hunger and lead to less energy consumption at the next meal. Appetite. 2012 Dec;59(3):755-761.
Kristensen M, Jensen MG. Dietary fibres in the regulation of appetite and food intake. Importance of viscosity. Appetite. 2011 Feb;56(1):65-70.
Lattimer JM, Haub MD. Effects of dietary fiber and its components on metabolic health. Nutrients 2010, 2, 1266-1289. http://www.mdpi.com/2072-6643/2/12
Das UN. Obesity: genes, brain, gut, and environment. Nutrition. 2010 May;26(5):459-73.
Schroeder N, Gallaher DD, Arndt EA, Marquart L. Influence of whole grain barley, whole grain wheat, and refined rice-based foods on short-term satiety and energy intake. Appetite. 2009 Dec;53(3):363-9.
Vander Wal JS, Marth JM, Khosla P, Jen KL, Dhurandhar NV. Short-term effect of eggs on satiety in overweight and obese subjects. J Am Coll Nutr. 2005 Dec;24(6):510-5.
Rolls BJ, Roe LS, Meengs JS. Salad and satiety: energy density and portion size of a first-course salad affect energy intake at lunch. J Am Diet Assoc. 2004;104:1570-1576.
Rolls BJ, Bell EA, Thorwart ML. Water incorporated into a food but not served with a food decreases energy intake in lean women. Am J Clin Nutr. 1999;70:448-455.