If you've been looking to replace potato chips in your life, look no further than chips made from zucchini, also known as courgette crisps.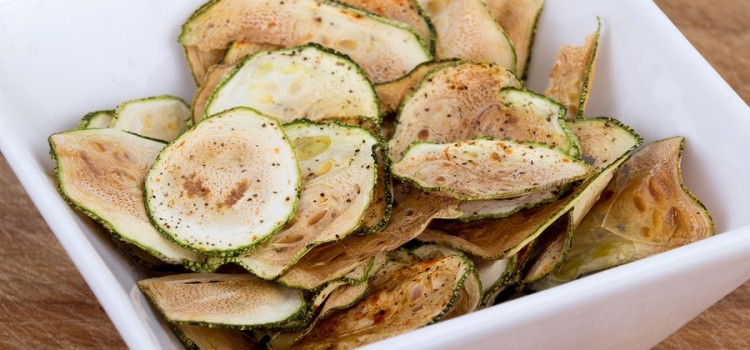 Once you know how unhealthy regular store-bought chips can be for you, there's really no way to enjoy them guiltlessly again. They're loaded with salt, fats, GMOs, artificial coloring and flavoring…. What's worse, even baked chips can do a number on our health. It's hard to pretend that you're doing the right thing when you purchase any bag of what is, in reality, junk food. And yet, it can be hard to let go. Few foods have that burst of flavor and crunch that you're craving.
Homemade chips can be the exception
With all natural, healthy ingredients, they can be baked with relatively little heat and oil (and no artificial oil substitute) for a satisfying crunch. As for all that sodium, you can instead flavor your chips with herbs and spices that actually add health benefits on top of all the good the vegetable does on its own—especially a particularly nutritious and low-carb choice such as zucchini.
Just a serving of zucchini can do a world of good for your general health. Zucchini is a great source of vitamins B6 and C, beta-carotene (pre-vitamin A), folate, potassium, and fiber, as well as important phytochemicals such as quercetin.
Health benefits of zucchini chips
Scientific research has observed health advantages of the pumpkin family—of which zucchini is a member—in supporting the body's natural anti-cancer mechanisms , as well as prostate health , beyond simple nutritional benefits.
Convinced yet? The taste of zucchini chips is sensational and the nutritional benefits can't be beat, but they have one more crucial thing going for them.
Usually, we have to make a trade-off. The convenience of the grocery store means we have to take home processed foods that have lost a lot of their nutritional value in the refining process. The taste and nutrition of cooking at home mean we have to set aside 30 minutes to an hour to get everything ready to eat. One of the first things we realize at Trim Down Club, however, is that it doesn't have to be like that. With so many fruits and vegetables to choose from in the world, and so many different ways to prepare them, we shouldn't assume that homemade means hard work.
Make your own zucchini chips at home
Our recipe for zucchini chips (click here), for example, requires just four ingredients and 15-20 minutes. If you have one zucchini, a bottle of olive oil, and some seasoning on hand, you can have this delicious, savory snack almost immediately.
The recipe also leaves some room for creativity. Turmeric is one spice we recommend, but a quick look around the site will remind you that there are health benefits to be had from dozens of different natural herbs, spices, and other seasonings. For example, if you choose to flavor your zucchini chips with a classic blend of paprika, garlic, and black pepper, know that their antioxidants have been found to support healthy skin, hair, digestive, and metabolic health. Just as importantly, the recipe can be applied to a multitude of vegetables, with all of their respective benefits.
Whatever you're looking for in your wellness journey, chances are you can find a solution in a certain spice or herb. Simply sprinkle on top of a serving of nutrient-rich zucchini chips hot from the oven, and you'll never look back.
References
United States Department of Agriculture (USDA). Agricultural Research Service (ARS). Full Report (All Nutrients): 11477, Squash, summer, zucchini, includes skin, raw. National Nutrient Database for Standard Reference Release 28. Software v.2.3.4.2. 2008. Beltsville: The National Agricultural Library.
Sharma D, Rawat I, Goel HC. Anticancer and anti-inflammatory activities of some dietary cucurbits. Indian J Exp Biol. 2015 Apr;53(4):216-21.
Pagano E, Laudato M, Griffo M, Capasso R. Phytotherapy of benign prostatic hyperplasia. A min.ireview. Phytother Res. 2014 Jul;28(7):949-55.