Margarine has become known as something it was never meant to be: a healthy alterative to butter. Margarine companies have worked to market their product as a health food, but for a long time, it was very much the opposite.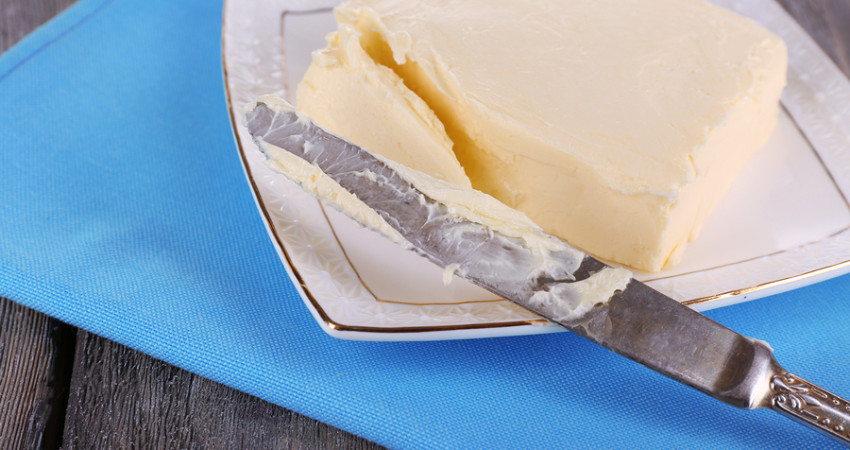 A quick look at margarine's origin story proves health was never initially part of the plan. Margarine was developed in the early 1800s—not as a healthier alternative to butter, but simply as a cheaper one. In fact, margarine really took off during the Great Depression and World War II. When American citizens were struggling with their checkbooks, margarine came to their aid. But today, when we find ourselves struggling with our blood pressure and cholesterol and weight, margarine does more harm than good.
What is Margarine Made Of?
Margarine was originally made from animal fat, but eventually chemists learned how to replace the animal fat with other substances and create a hardened stick form that would resemble a stick of butter. That move away from a soft, "tub" version to a stick of margarine made margarine appear more similar to butter, though significantly more processed. Margarine is a collection of ingredients you would never find in your own kitchen, all meant to behave like butter and taste like butter and look like butter. Even the color is manipulated, so that margarine is just as yellow as butter!
We have to ask: if it acts like butter and tastes like butter and looks like butter, shouldn't we just buy a stick of butter? In short, it depends.
When margarine is marketed as a healthy alternative to butter, the number-one claim shared has been that margarine has less saturated fat—with previous thinking that all saturated fats are bad for everyone. But, as any nutritionist can tell you, these terms have become far more complex than they may sound.
First, we have to acknowledge that there is more than one kind of fat. Here's a quick look at some of the common options available to consumers:
Saturated fats (found in whole-fat dairy products, meats, baked goods)
Monounsaturated fats (found in olive oil, canola/rapeseed oil, avocado oil, some nut oils)
Polyunsaturated fats (found in fish, seeds and nuts and their oils, and other vegetable oils)
Natural trans fats (found in dairy and in meat from ruminants e.g. cows)
Artificial trans fats (found in fried foods, baked goods)
There quite a bit of diversity in those different fats not only in terms of their sources, but also in how they affect your body. You may even be aware of this already—just think back to all the times you were warned away from fries, and all the times you felt good about adding more salmon or olive oil to your diet. Even if you aren't familiar with the names for all of these fats, you probably know that some of them are actually quite good for you.
That's where the margarine confusion comes in. It's easy to claim that they have less fat, but shouldn't we take a look at what kind of fat we're talking about here? Butter, being a whole-fat dairy product, has saturated fats. And saturated fats have been seen as "bad fats" for years, with many believing they have a universally negative effect on the heart. Let's look into that.
According to a review published in the Annals of Internal Medicine, dietary fat is just one factor behind the risk of heart disease. Researchers looked at 72 published studies on the effect of fats and heart disease, involving more than 600,000 people from 18 countries. With all fats analyzed, artificially-formed trans fats were linked with a higher risk of heart disease. In contrast, researchers found something unexpected: saturated fats—that is, what you get in butter—were found to have much less of an effect on heart disease risk than expected.
Why the inconsistencies? First, saturated fat is made up of individual saturated fatty acids, each of which has its own actions and impact on health, especially in the context of other fats in the food. The composition of butter is dependent on the milk from which it is made, which is, in turn, dependent upon the cow's diet. Second, people have varying genetic predispositions to how their bodies deal with saturated fat, and some people even need to limit their intake of all fats to optimize their health and maintain a healthy weight.
What does all that mean for the margarine market? Well, the best argument that margarine has on its side was that butter has saturated fats, and saturated fats have been linked to heart disease in some people, and you should eat margarine in order to avoid butter. But with research pointing out that the problem with saturated fats isn't actually universal—not among people nor the individual types of saturated fats themselves—so the argument shifts. Instead, we're left wondering if we should go back to butter, which has been a part of our ancestors' diets for generations, or if we can't, if butter-like alternatives can be made better.
Why You Should Avoid Regular Margarine
Setting aside that butter can be fine in moderation for many people, what's wrong with regular margarine?
First, the vegetable oils used to make regular margarines today have a high concentration of polyunsaturated fats, which are unstable when exposed to light or stored for a long period of time, generating the free radicals implicated in health risks. Just the extraction process of many inexpensive oils from their seed sources can create free radicals, which latch onto other molecules before creating more free radicals. Over the long-term, free radicals are responsible for the effects of cell damage, aging, heart disease, and cancer.
Second, the process of hardening those oils to create the more solid structure of margarine, known as hydrogenation, generates artificial trans fats. Trans fats, which we already know of as the "bad" kind of fat, can decrease immune response and fertility while increasing the risk of heart disease. On top of all of that, trans fats increase blood insulin levels (putting you at a greater risk of diabetes) and increase levels of LDL—that is, "bad cholesterol." Even if you take care to purchase margarine with the label "trans fat-free," margarine companies are still allowed to include them in the product under a certain amount.
Taking in trans fats makes your health improvement and weight management efforts all the more difficult. Your body will burn saturated fats and unsaturated fats, but trans fats are stored in the body as fatty tissue.
Third, regular margarine is often made of hydrogenated oils that are high in omega-6 fatty acids. We do need some omega-6s, but the modern western diet already includes too much. When they aren't balanced by omega-3s—which are increasingly scarce in our most common food sources—they can lead to inflammation and belly fat, and even heart disease and cancer.
Alternatives to Regular Margarine
Despite all that we know about the risks of depending on margarine, there may be other reasons why you absolutely cannot use butter. Whether you're vegan, lactose-intolerant, trying to keep dairy out of your meat dishes in a kosher home, or one of the people who is sensitive to certain saturated fats, you can still find a way to avoid butter AND the concerns associated with regular margarine.
You could try one of the newer generations of "smart" buttery spreads, including organic blends of food fats such as omega-3-rich flaxseed and omega-9-rich olive oils, which get their hard structure from naturally-firm coconut oil. While the latter is high in saturated fat, the fatty acids present have been associated with a favorable health profile compared to some animal fats, and of course to hydrogenated fats.
More common transfat-free vegetarian spreads are increasingly available. Keep in mind that most governmental authorities, such as the US Food and Drug Administration, allow some trans fats (less than 0.5 grams) to be rounded down to zero—so this still isn't your best option—, though there has been a commitment to eliminate all artificial transfats from foods. If you choose tub and "whipped" soft margarines, the amount will be the lowest possible in these types of products.
Other alternatives to butter and margarine include olive oil, nut oils such as hazelnut and macadamia nut, and coconut oil, and even flaxseed or chia seed gel. If you're baking, applesauce, avocado, pureed chickpeas, and banana work well, too.
At the end of the day, though, the same rule holds true: whenever you can, always choose a natural product. Most vegetarian spreads are still processed foods, and need to be checked for additives. Butter goes through a far simpler journey from farm to table, and if selected from a well-run farm—pastured, grass-fed cows, eschewing hormones and prophylactic antibiotics—and enjoyed in moderation, it remains a good choice.
There and Back Again
Butter, especially pastured or grass-fed butter, is rich in vitamin K2, which is rare in the food supply and carries excellent health benefits, and contains an advantageous blend of fatty acids (including conjugated linoleic acid), which can support a healthy metabolism, body weight management, and prevention of risks for heart disease and cancer.
And what if you're afraid of the "high-fat" part of "high-fat" dairy? A 2013 study in the European Journal of Nutrition found that high-fat dairy did not increase the risk of metabolic disease. In fact, participants who consumed high-fat dairy experienced a significantly reduced risk of obesity. With such studies being matched by those suggesting risk, we are reminded that not all foods suit everyone. However, there is ample evidence that butter can be used safely and advantageously, and it is unquestionably the preferred choice above overly processed regular margarines that contain trans fat.
Sources