Using the idea of a "superfood" as something that packs a lot of nutrients on a per calories basis, sardines hit the mark. They are nutrition powerhouses.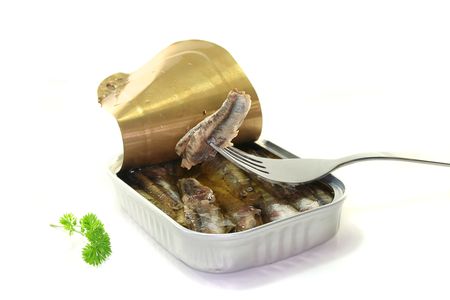 Superfoods. A buzz word that has become part of our everyday language but what does it mean? While there is no standardized definition, and the use of the word is unregulated, the general consensus is that a superfood will give the consumer a lot of nutritional bang for their buck on a per calorie basis. Often the word superfood is used to describe plant foods such as kale, blueberries, quinoa or acai berries for example and with good reason: they are very nutritious. However superfoods can also be used to describe animal-based foods as well; kefir, cheese, beef, and fish are loaded with nutrients and needed necessarily be high in calories. One of our favourite superfoods is sardines.
Sardines are small fish that form large schools, swimming through the ocean with open mouths collecting small amounts of plankton.
They are small, plentiful fish that can be bought fresh or canned. Fresh sardines are available in late summer, but can be enjoyed year round canned, smoked, or frozen.
What are the advantages of sardines?
By now, most have heard of the many health promoting properties of fatty fish like salmon, herring, trout, and mackerel, as well as sardines, probably best known for their omega-3 fats eicosapentaenoic acid (EPA) and docosahexaenoic acid (DHA) – fats that have been shown to promote overall health, specifically for the cardiovascular system, as well as for eye, skin, and brain health, and for lowering inflammation. However, many fatty fish high in omega-3s have fragile fish stocks, meaning they are commonly overfished, which can harm the ecosystem. Sardines, primarily due to their small size, are considered to be a sustainable species, which can be enjoyed without guilt.
Sardines are much more than their omega 3 fatty acid content
One 92 g or 3.2 oz can of sardines provides almost twice the recommended average daily intake of 500 mg of EPA and DHA combined.
Sardines also include other nutrients needed for the production of neurotransmitters; chemicals that regulate mood and brain function. These include iron, magnesium, B vitamins, vitamin D, zinc, and selenium.
The following illustrates how sardines have nutrient density extraordinaire – just one 92 g / 3.2 oz can of sardines yields the following (on average)*:
23 g protein
351 mg calcium (more than a glass of cow's milk)
2.7 mg iron
451 mg phosphorus
465 mg sodium
1.2 mg zinc
49 mg selenium
4.8 mg vitamin B3 (niacin)
70 mg choline (a vitamin B-like molecule)
8 mcg vitamin B12
100 IU vitamin A (retinol)
178 IU vitamin D
435 mg EPA
468 mg DHA
Not only do sardines provide a significant amount of total nutrients, but because the nutrients are found in an animal-based food, they are absorbed efficiently – some more so than from plant foods – a fact that is often overlooked in nutrition. While plant foods have other health-promoting advantages – like higher amounts of phytonutrients than in meats, fish, or dairy – one shouldn't lose sight of the fact that animal-based foods are highly nutritious in their own right.