A simple, roasted orange bell pepper adds beautiful color to a delectable hummus.
Click to get more Easy, Healthy Recipes
Preparation Time

12 hours with dried chickpeas, less than 5 minutes with canned

Cooking Time

1½ hours with dried chickpeas, 25 minutes with canned

Difficulty Rating

1

Health Level

5

Serves

4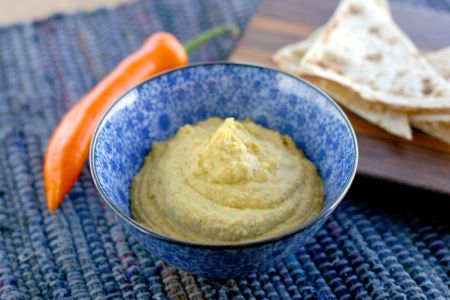 Ingredients
½ cup / 105 g dried chickpeas or 1 cup /164 g canned chickpeas
1 bay leaf
½ tsp. / 3 g salt or substitute
1 orange bell pepper
1 Tbsp. olive oil, divided
½ cup / 120 g strained Greek or organic vegan yogurt
2 tsp. /10 g low-fat organic peanut butter
1 tsp. / 2 g cumin
¼ tsp. / 1 g cayenne
---
Directions
If using dried chickpeas:

Soak the chickpeas over night in water.
Drain, and place in a medium saucepan with twice the amount of water as the chickpeas. Add the bay leaf and salt.
Bring to a boil and reduce heat to a simmer. Cook for 40-50 minutes, or until chickpeas are tender. During the cooking process, scoop the foam off of the top of the water as the chickpeas cook.



If using canned chickpeas:
Drain and place in a cup of boiling water with the bay leaf to soak.

While the chickpeas are cooking or soaking, prepare the pepper. Chop the top off of the pepper and place in a small roasting pan. Drizzle with one teaspoon of olive oil. Roast for 20 minutes, or until the skin is slightly charred. Place the pepper into a paper bag and close tightly so that the pepper will steam. Let steam for 5 minutes. Carefully remove the skin and seeds. Set aside.
When the chickpeas are ready, remove the bay leaf and drain. Place the roasted pepper, chickpeas, olive oil and remaining ingredients in a food processor fitted with a metal blade. Pulse until the texture is smooth. Adjust seasoning to taste.
Serve with crudité or whole grain flat bread (2 crudités or small flat breads = 1 carb serving).
Serving size: ¼ cup / 105 g
Exchanges per Serving: ½ Carb, ½ Protein, 1 Fat
---