This simple, exotic-but-homey recipe will rival your craving for the fried original, and leave you feeling nourished and energized.
Click to get more Easy, Healthy Recipes
Preparation Time

15 minutes

Difficulty Rating

1

Serves

2-4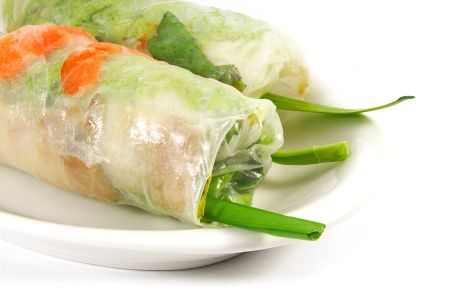 Ingredients
8 rice paper wrappers 6-8″
¼ cup bean sprouts
¼ cup baby greens
¼ cup shredded green cabbage
1 small carrot, julienned to 4-8 thin long sticks
8 sprigs fresh basil and/or cilantro/coriander
8 whole chives
1 Tbsp. light coconut milk
1 Tbsp. seasoned curry blend paste
1 Tbsp. natural peanut butter
2 tsp. hoisin sauce
1 tsp. low-sodium soy sauce
1 tsp. sesame oil
Water
---
Directions
Brush a small serving platter lightly with sesame oil.
Blend together the following ingredients in whichever combination you prefer: coconut milk, curry blend paste, peanut butter, hoisin sauce, and soy sauce. The most popular combinations are coconut+curry, and peanut+hoisin+soy.
Using two at a time, lightly dampen rice wrappers together, and lay on a flat surface. Spread a sauce blend on one surface.
Fill the middle with ¼ of the vegetables, and roll or wrap closed. Place on the oiled serving dish. Repeat for the other three rolls.
When the rice paper has softened, the rolls are ready to serve.
Serving size: 1-2 rolls
Exchanges per Serving: ½-1 Carb, ¼-½ Protein, ¼-½ Fat
---