Warm weather meal-in-one that can be a great non-dairy source of calcium and vitamin D.
Click to get more easy, healthy recipes
Preparation Time

10 minutes

Cooking Time

4 minutes

Difficulty Rating

2

Serves

4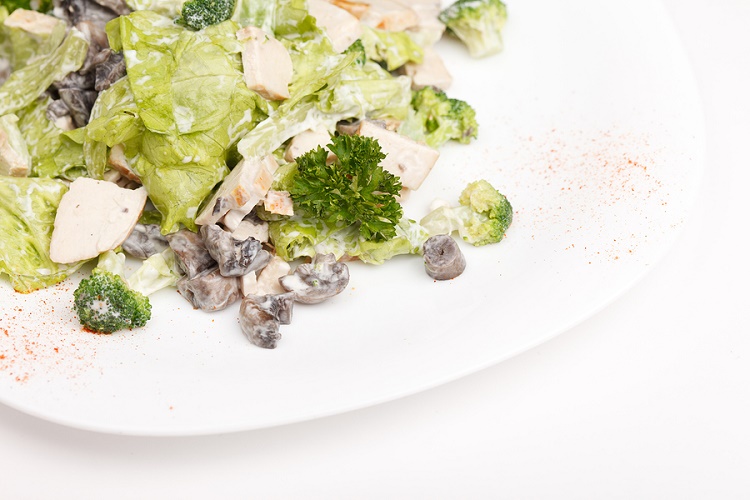 Ingredients
4 cups /230 g iceberg or leaf lettuce, chopped
1 cup / 90 g raw or frozen broccoli, cut into bite-sized pieces
1 cup / 120 g edamame in pods, frozen
¼ cup / 30 g raw almonds, chopped or slivered
1 cup / 24 g mushrooms, sliced
4 eggs, preferably organic omega-3 or pastured, hard-boiled and diced
1 cup / 180 g white beans, cooked/canned and liquid reserved
Dressing
½ cup / 120 mg organic pastured dairy or soy milk, unflavored/unsweetened
1 Tbsp / 15 ml vinegar
1 tsp / 5 ml olive oil
¼ cup / 60 ml plain yogurt, full-fat or vegan cultured
¼ cup / 15 g raw onion, minced
¼ cup / 4 g fresh parsley sprigs
2 Tbsp / 2 g chives, chopped
1 Tbsp / 1 g dill weed, chopped
1 tsp / 5 ml Worcestershire sauce (see our recipe here)
½ tsp / 1 g ground black pepper
½ tsp / 1 g ground mustard seed
½ tsp / 1 g paprika, preferably smoked
---
Directions
In a 3-quart/liter glass serving bowl, combine edamame pods and mushrooms. Microwave covered for 4 minutes, until tender. Set aside to cool.
In a small bowl, whisk together milk and vinegar, and set aside to curdle and thicken, about 5 minutes.
In a separate medium-small mixing bowl, add bean water and beat with an electric mixer until soft peaks form.
Add in oil and continue beating until mixture forms a thick drizzling ribbon.
Fold in thickened milk, followed by yogurt, and then remaining dressing ingredients.
Remove edamame beans from pods into same bowl, and discard pods.
Add remaining salad ingredients to bowl, followed by prepared dressing. Toss well.
Serving size:
2 cups / 480 ml
Exchanges per Serving:
1 Carb, 2 Protein, 1 Veg
---