The traditional rainbow of roasted vegetables. If you wish, follow the recipe to a tee, or get into the spirit of it and choose any collection of your seasonal favorites. This feast for the eyes is as savory and delectable as it is healthful and nourishing.
Click to get more Easy, Healthy Recipes
Preparation Time

20 minutes

Cooking Time

1 hour

Difficulty Rating

2

Serves

8-16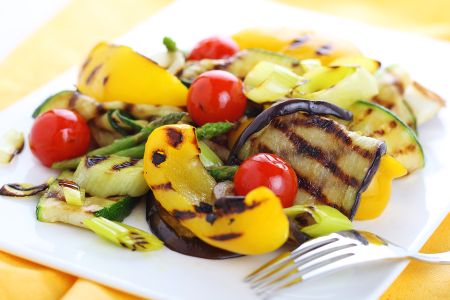 Ingredients
½ cup beets, julienned
½ cup carrots, sliced
½ cup rutabaga, cubed
1 celery root /celeriac, sliced
½ cup cauliflower florets
½ cup each red, yellow, and green bell peppers, cut into 1-inch / 2-cm squares
½ cup mini eggplants, sliced
1 small fennel bulb, quartered and sliced
½ cup leeks, sliced
½ cup each red and white onions, sliced
½ cup cherry tomatoes, halved
½ cup mini yellow squashes (coin-sized), halved
½ cup mini zucchinis, quartered length-wise
8 cloves of garlic, sliced
½ cup olive oil
1 tsp. garlic powder
1 tsp. paprika
4 sprigs-worth of fresh oregano leaves
1 cup fresh basil leaves
1 tsp dried food-grade lavender
Salt or substitute to taste
---
Directions
Preheat oven to 400°F / 200°C degrees or convection oven to 375°F / 180°C degrees.
Lightly wrap beets, carrots, rutabaga, and celeriac pieces in aluminum foil and bake for 20 minutes.
Remove from oven and add to a large bowl with the remaining vegetables. Toss with olive oil to lightly coat. Add seasonings and toss again.
Spray a large shallow baking pan with non-stick cooking spray and place vegetables in a single layer, allowing for space between so they will brown nicely.
Place baking pan in the preheated oven on an upper rack. If using a convection oven to roast vegetables, you can place two baking pans in at once.
Roast for 20 minutes, turn vegetables, and roast for another 20 minutes.
Transfer to large dish to serve.
Serving size:: ½-1 cup / 75-150 gm
Exchanges per Serving: ½-1 Carb, 0 Protein, ½-1 Fat
---