Bake-free, gluten-free, can-be-nut-free, plus Paleo-friendly, vegan-friendly, diabetes-friendly, heart-friendly—and most of all, DECADENTLY DELICIOUS! Only the poor soul without a sweet tooth will suffer here.
Click to get more Easy, Healthy Recipes
Preparation Time

30 minutes

Cooking Time

10 minutes

Difficulty Rating

2

Health Level

4

Serves

24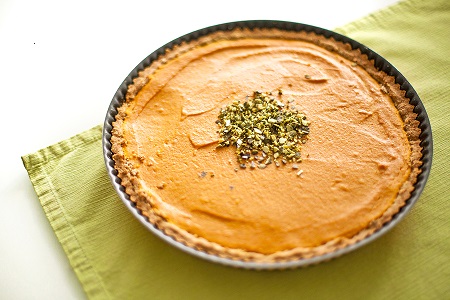 Ingredients
Filling

1 cup / 245 g pumpkin puree (canned or from 1⅔ cup /193 g fresh, steamed and mashed) or:

1 cup / 255 g mashed sweet potato (canned or from 2 whole fresh, steamed and mashed)

¼ cup / 60 ml flaxseed gel*
Sweetener: ⅔ cup / 160 g inulin sweetener, preferably brown sugar type or:

1 tsp. / 5 ml pure maple flavor extract
2 tsp. / 8 g Stevia or monk fruit sweetener + 1 tsp. / 5 ml pure maple flavor extract
⅓ cup / 50 g sugar, preferably coconut or raw whole cane
½ cup / 120 ml real maple syrup
combination of the above

½ tsp./ 1 g pumpkin pie or allspice or:

mixture of cinnamon, nutmeg, and cloves

⅛ tsp. / ¾ g salt, preferably Native saltpan type
1⅔ cup / 400 ml milk, preferably hazelnut or sunflower seed
½ tsp. / 2½ ml vanilla extract

* For flaxseed gel, combine 2 Tbsp. / 14 g whole flaxseeds with ½ cup / 120 ml warm water in a food processor or chopper, and grind for 30 seconds. Strain gel through a fine wire-mesh colander, agitating with a rubber spatula.




Crust

2 cups / 400 g dried figs, stems removed (if very dry, soak in water) and/or dates, pits removed
1 cup / 110 g pecans, hazelnuts, walnuts, almonds and/or pumpkin seeds
1 cup / 160 g whole flaxseeds
½ tsp. / 1 g pumpkin pie or allspice or:

mixture of cinnamon, nutmeg, and/or cloves to taste
---
Directions
Filling



Warm sweetener (but without the maple flavoring, if using), seasonings, and milk in a quart saucepan over medium heat. Whisk together to combine well.
When tiny milk bubbles begin to appear at the sides of the pan, whisk in pumpkin or sweet potato puree until well-incorporated.
Bring to a slow boil, stirring constantly and scraping the sides and bottom of the pan—the mixture should be thickening at this point. Reduce heat to medium-low, stir in flaxseed gel, and continue stirring until the mixture becomes thicker and custard-like in the pot and ribbon-like when dripping off the spoon.
Remove from heat, add flavor extract(s), and whisk until fluffy. Set aside for 5-10 minutes
Transfer to a glass bowl, cover, and refrigerate until set (like a pudding).



Crust

Place figs/dates in a food processor, and process until attaining a roughly single mass. Remove and set aside.
Place nuts/seeds and spice(s) in the food processor, and grind to a course meal.
Return the dried fruit mass to the food processor, and process together with the nut/seed meal until a dough-like mixture is attained.
Mist a 9-inch / 23-cm pie pan lightly with oil (preferably nut oil), and press crust mixture into the bottom and sides until uniform and covering edges about 1½-2 inches / 4-5 cm in height.
When the filling is sufficiently set, spread evenly over the crust

Best chilled before slicing and serving.

Top with homemade whipped cream, if desired (2 Tbsp. / 30 g = ½ carb + 1 fat exchange).
Serving size: 1⅙x4½-inch / 3×10-cm slice
Exchanges per Serving: 1 Carb, 0 Protein, 1 Fat (= 1 Sweet)
---