This simple, savory, supered-up version of a hearty Norwegian classic is a creamy treat for a cold day—or can be enjoyed cold on a hot day. Gluten-free, low-carb, Paleo, vegan-friendly, and keto-friendly.
Click to get more Easy, Healthy Recipes
Preparation Time

15 minutes

Cooking Time

25 minutes

Difficulty Rating

1

Health Level

5

Serves

12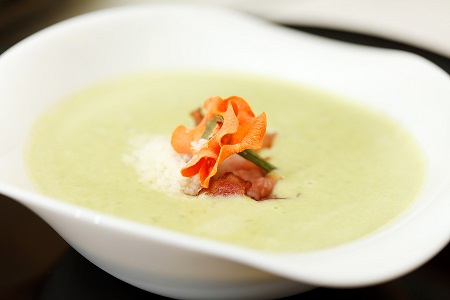 Ingredients
1 medium head cauliflower (about 6 cups / 1½ liters chopped)
1 qt./L milk, preferably organic pastured or vegan

or light dairy cream or full-fat coconut milk (not beverage) for keto version

11 cups / 340 g (1 bunch) spinach, chopped or 10 oz / 300 g (1 package) frozen
½ large or 1 medium yellow onion, chopped
2 cups / 480 ml vegetable broth/stock, preferably organic low-sodium
¼ tsp. / ½ g ground black pepper
2 medium stalks green spring onions/scallions, cut into 1-inch / 2½-cm pieces
2 dried/smoked chipotle peppers, sliced or coarsely chopped or 2 strips/rashers bacon, preferably organic pastured and uncured, julienned
1 tsp. / 5 ml olive oil (*not needed if using bacon)
---
Directions
Clean cauliflower and cut into small florets. Add to a three-quart or larger lidded saucepan, along with the yellow onion, spinach, milk, and broth. Bring to a boil over high heat, then cover, lower heat to medium-low, and simmer until vegetables are tender, about 15 minutes.
Blend hot ingredients until smooth, and season with black pepper. Set aside.
If bacon is desired, fry in a non-stick pan until crispy but not burned, about 3-5 minutes. If not using bacon, warm olive oil in a non-stick pan over medium-high heat, add chipotle pieces, and sauté until fragrant, about 1-2 minutes
Add scallions and cook until tender, about 2 minutes
When ready to serve, ladle soup into individual bowls and garnish with scallions and chipotle or bacon.
Serving size:
2 cups / 480 ml
Exchanges per Serving: ⅔
 Protein, 1 Veg (regular version) or 1 Fat, 1 Veg (keto version)
---