Who doesn't like fresh-baked bread? Here's an easy, wholesome, tried-and-true machine-friendly recipe that's sure to delight.
Click to get more Easy, Healthy Recipes
Preparation Time

5-50 minutes

Oven Baking Time

30 minutes

Difficulty Rating

1

Health Level

5

Serves

24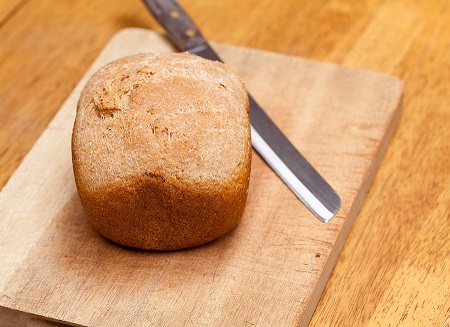 Ingredients
1¼ cups / 300 ml warm water
2 Tbsp. / 40 g sugar
2 tsp. / 8 g active dry yeast
3 cups / 360 g whole grain flour*
1½ tsp / 9 g salt
¼ cup / 60 ml olive oil

*Whole wheat, spelt, rye, Kamut® (khorasan wheat), emmer, einkorn, farro, and/or a whole grain gluten-free blend, preferably sprouted
---
To make this recipe in a bread machine:
Put all ingredients into bread machine in the above order and according to machine instructions. Best baked on the full cycle rather than the quick, but the quick still works if you are in a hurry.
---
To make this recipe by hand:
Warm oven to 115°F/50°C.
Combine the water and sugar in a small bowl, and sprinkle on the yeast. Stir very gentle until just mixed. Allow to sit undisturbed for 15 minutes.
While waiting, mist two nonstick bread pans with olive oil.
Combine the yeast mixture with half the flour in an electric mixer, and mix until achieving a uniform and slightly rubbery texture (approximately 1 minute)
Cover mixing bowl with cloth, and allow to rest for 15 minutes.
Add salt and oil, and continue mixing for an additional 1 minute. Gradually add the remaining flour, mixing well.
Knead the dough until smooth and not crumbly or sticky (approximately 10-15 minutes), by hand or by mixer with the dough hook attachment.
Preheat oven to lukewarm by setting it to 350°F and then turning it back off after exactly 1 minute. Turn dough onto greased surface. Evenly divide into two loaves and place into prepared bread pans, gently pressing dough into corners.
Place pans in warmed oven for 20-40 minutes to until dough has risen above the top edges of each pan and is fluffy to the touch.
Increase oven temperature to 350°F/180°C, and bake for 30 minutes.
Remove hot bread from pans as quickly as possible; cool on rack.
Serving size:1½ oz / 45 g slice
Exchanges per Serving: 1 Carb, 0 Protein, 0 Fat
---