Homemade Pizza with SWG crust: enjoy!
Click to get more Easy, Healthy Recipes
Preparation Time

20 minutes

Cooking Time

25 minutes

Difficulty Rating

2

Health Level

4

Serves

12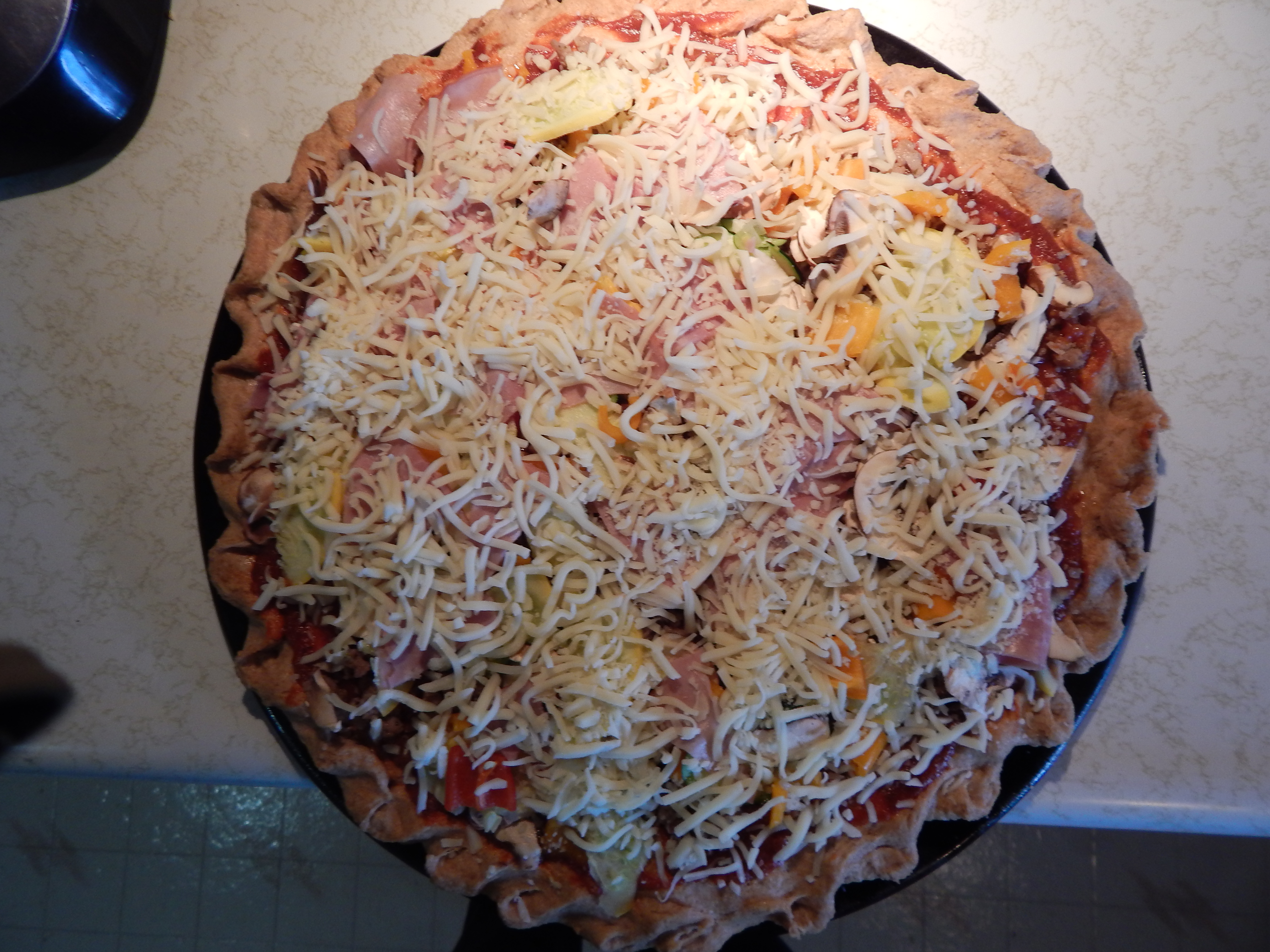 Ingredients
2 cups / 310 g sprouted whole grain (SWG) flour
½ cup / 120 ml hot water
2 tsp. / 8 g active dry yeast
1 Tbsp. / 14 ml olive oil
½ tsp. / 3 g salt
15 oz / 450 ml tomato sauce
½ cup / 100 g onion, chopped
1 clove fresh garlic, minced
1 tsp. / 1 g dried oregano
1 tsp. / 1 g dried basil
2 cups / 200 g vegetables (zucchini, yellow squash, crimini mushrooms, fresh spinach), sliced
6 oz. / 170 g part-skim mozzarella cheese, shredded
5 oz / 145 g breakfast sausage, preferably uncured (optional)
2 oz / 57 g Black Forest ham, preferably uncured (optional)
---
Directions
Preheat oven to 400°F / 200°C.
Crust
Combine flour and salt in a medium bowl. Set aside.
Add yeast to water and stir until yeast dissolves.
Add olive oil to yeast.
Pour the yeast and oil mix into the flour. Stir until large clumps form. If flour seems to dry.
Add small amounts of water until the flour sticks together but does not stick to your hands.
If dough becomes too wet, add a little more flour. Knead the dough on your counter about 6 times till it is a dough ball.
Clean the bowl and pat dry. Grease it with half of the olive oil. Return dough to bowl and let rest in a warm place for 25-30 minutes covered with plastic wrap.
Meanwhile prepare your pizza pan or stone by misting or brushing with the remaining olive oil. The dough amount should be larger (not necessarily double in size) due to the yeast working.
Place dough onto the center of your pizza pan. With your hands, press dough to cover the pan, working from the center out. I leave the dough thick at the edges.
Sauce
Combine all of the sauce ingredients and cook for 15 minutes at a low simmer.
Spread sauce on crust to thick edges. Top the sauce with the vegetable toppings and finally the cheese. If desired, slice or chop meats and distribute over the cheese.
Bake in the preheated oven for 20-25 minutes. Watch for cheese in the middle to begin to turn light brown.
Serving size:3 oz / 85 g
Exchanges per Serving: 1 Carb, 1 Protein, 1 Fat
---