This classic gets a healthy upgrade, but stays simple to make!
Click to get more Easy, Healthy Recipes
Preparation Time

20 minutes + 1 hour

Cooking Time

30-45 minutes

Difficulty Rating

2

Health Level

5

Serves

16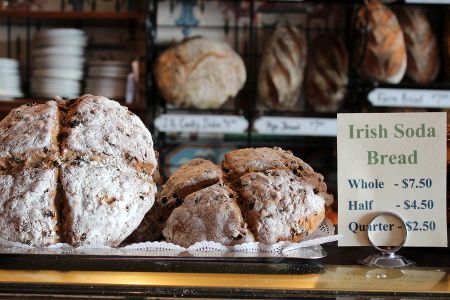 Ingredients
1¾ cups / 210 g SWG* or whole wheat or spelt (wholemeal) flour
½ cup / 80 g steel cut (non-instant) oats, finely ground to flour or:
¾ tsp. / 3 g baking soda
½ tsp. / 2½ g baking powder
½ tsp. / 2½ g salt or substitute
1 cup / 240 g low fat kefir or:

combination of ¼ cup buttermilk + ½ cup water + 1 large omega-3 or grass-fed egg

1 Tbsp. / 14 ml organic whole sugar cane juice or simple syrup** from coconut sugar
½ cup / 56 g currants or raisins, optional
1 Tbsp. / 10 g caraway seeds, optional
---
Directions
Machine Method
Combine all the liquid ingredients and place in the bottom of the bread machine.
Combine all dry ingredients and place on top of the liquid mixture. Process all ingredients on the "quick bread" cycle.
t end of cycle, test for doneness with a toothpick; if it does not come out clean, switch the machine setting to "bake" cycle, and continue checking for doneness every 10 minutes.
After baking, remove the bread pan from the machine and allow bread to sit in the pan for 10 minutes to "set." Remove bread from pan and cool on wire rack before slicing.
Hand Method
Heat the oven to 375 °F / 190 °C.
Mix the flours, baking soda, baking powder and salt in a large bowl.
In a separate bowl, whisk the kefir and the sugar cane juice. Stir into the dry mixture, mixing only until the dough just comes together.
Mix in the currants or raisins and caraway seeds, if desired. Transfer to a floured surface and form into a round loaf.
Do not overmix, or the bread will be tough.
Place on a lightly greased cast iron skillet or baking sheet. Score a deep X in the top of the dough. Bake for 30 minutes, or until the loaf sounds hollow when you tap the bottom; check for doneness with a toothpick. If the toothpick does not come out clean, bake for up to another 15 minutes.
Cool before slicing.
*SWG: sprouted whole grain
**Simple syrup: equal parts sugar+water, boiled for 5 minutes
Serving Size: 1 oz / 30 g slice
Exchanges per Serving: 1 Carb, 0 Protein, 0 Fat
---