This is it! The original, basic, easy, and delicious chicken stock that can be the low-sodium base of sensational soups and used to season delectable dishes—with tips to upgrade for maximum flavor and benefit.
Click to get more Easy, Healthy Recipes
Preparation Time

15 minutes

Cooking Time

1 Hour

Difficulty Rating

1

Health Level

4

Serves

10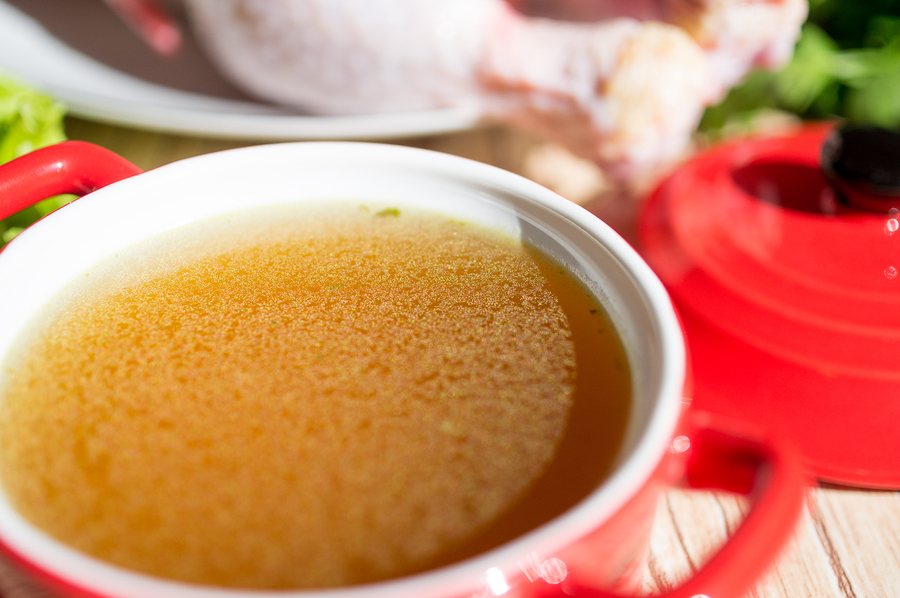 Ingredients
3 chicken thighs, preferably organic pastured*
2 chicken drumsticks, preferably organic pastured*
3 pints / 1½ L water
½ onion, sliced or chopped
½ carrot, sliced or chopped
¼ celery stalk, sliced or chopped
1 bay leaf
6 whole black pepper corns
3 cloves fresh garlic, sliced or minced (optional)
1 cup / 100 g fresh herbs, i.e. dill weed, parsley, chives, oregano (optional)
1 Tbsp. / 6 g ground spices, i.e. turmeric, paprika (optional)
1 lb / 450 g fresh mushrooms, preferably mixed varieties i.e. white/crimini/portabella/maiitake/oyster/woodear/shiitake, sliced (optional) or 4 oz / 120 g dried mushrooms, broken into ½-inch / 1 cm pieces

*If organic, add the bones as well; if also pastured, add the skin, too.
---
Directions
Put all ingredients in a 6-quart/liter lidded pot over high heat, and bring to the boil.
Reduce heat to low, cover, and simmer for 45 minutes.
If using organic/pastured chicken: Remove chicken pieces and allow to cool, then remove the meat, put the bones and/or skin back into the pot, and simmer for a further 15 minutes.

If using mushrooms, add them to the pot instead of removing the chicken, and simmer for a further 15 minutes

Strain the liquid through a sieve into a large bowl. Serve or freeze the chicken and vegetables for later use (1 oz / 30 g chicken = 1 protein exchange; 1 cup / 70 g vegetables = 1 vegetable exchange). Cool and refrigerate the broth/stock overnight.
The following day, remove congealed fat from the top of the stock. Portion for reheating and serving, or for freezing for later use.

*If using pastured chicken, freeze the gel in ½ pint containers for use as needed

You can poach a whole chicken in this way for more stock and meals.
Serving size:1 cup / 240 ml
Exchanges per Serving: Free up to 1 cup / 240 ml; for more, 0 Carb, ½ Protein, 0 Fat
---