When you smell the aroma of roasted game hen, any time of the year could take on a holiday atmosphere. Here is an easy recipe that is so good, you may want to celebrate early!
Click to get more Easy, Healthy Recipes
Preparation Time

10 minutes

Cooking Time

50 minutes

Difficulty Rating

2

Health Level

5

Serves

12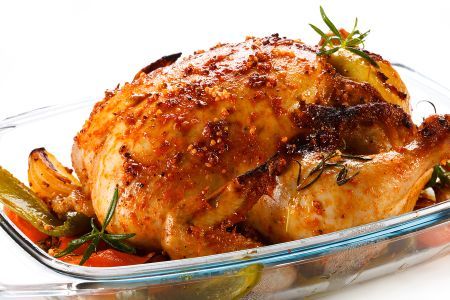 Ingredients
6 Cornish / Indian game hens, preferably organic pastured
¼ tsp. / ½ g ground pepper
½ tsp. / 3 g salt or substitute
½ tsp. / 1½ g granulated garlic
3 oranges, quartered
6 bay leaves
4 Tbsp. / 57 ml olive oil
---
Directions
Preheat oven to 400 °F / 200 °C.
Remove skin from hens and trim excess fat.
Brush oil over hens, then sprinkle with pepper, salt/substitute, and garlic.
Put 2 orange quarters and a bay leaf into each hen's cavity, and tie the legs with twine.
Place the hens on a baking sheet. Put the baking sheet over the center rack of the preheated oven, and roast for 50 minutes.
Halfway through roasting, brush the drain juices over the hens and invert position.
Return the baking sheet to the oven and continue to cook until all sides are golden brown.
Place the roasted hens over a rack loosely covered with aluminum foil, and let stand to cool for 5 minutes before transferring to serving platters.
Seasoning the meat ensures eating it skinless won't mean less flavor—just less fat.
Serving Size: ½ hen/p>
Exchanges per Serving: ½ Carb, 3 Protein, 0 Fat
---