Delectible lean tenderloin smothered in fresh spring vegetables and antioxidant-rich sauce makes a delicious dinner that will nourish both your body and soul! Paleo and keto-friendly.
Click to get more Easy, Healthy Recipes
Preparation Time

10 minutes

Cooking Time

25 minutes

Difficulty Rating

2

Serves

4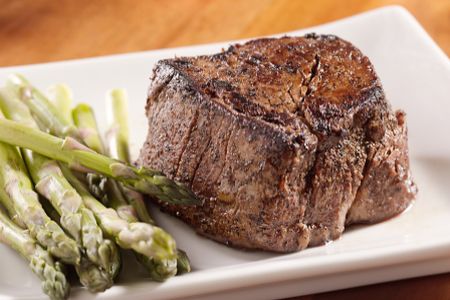 Ingredients
½ lb. / 230 gm beef tenderloin, extra-lean grass-fed/pasture-raised, cut into 4 steaks
1 cup / ½ liter organic reduced sodium beef stock
2 carrots, peeled and cut into strips
8 scallions/spring green onions, cut into 3-inch / 7½ cm pieces
1 red bell pepper (cut into 8 strips)
8 asparagus spears, trimmed
1 zucchini/courgette, sliced into strips
1 Tbsp. / 15 ml olive oil
2 cloves fresh garlic, minced
1 tsp. / 1½ gm fresh or dried rosemary leaves
¼ cup / 60 ml dry red wine
---
Directions
Preheat broiler/oven grill.
Pour beef stock in medium saucepan. Boil until reduced to 1 cup / 0.25 liter, about 20 minutes. Set aside.
Steam carrots for 5 minutes, then remove from heat and rinse under cold water. Arrange carrots, bell pepper, scallions, asparagus and zucchini in single layer on large baking sheet. (Stock and vegetables can be prepared 4 hours ahead; cover separately and refrigerate.)
Heat 2 tsp. / 10 ml of olive oil with garlic and rosemary in a heavy large skillet over medium-high heat.
Add steaks; cook to desired doneness, about 4 minutes per side for medium-rare. Transfer steaks to plate; tent with aluminum foil to keep warm.
Add dry red wine to same skillet. Boil until red wine is reduced to 1 tablespoon, scraping up browned bits, about 3 minutes. Add reduced stock and bring to boil. Remove from heat.
Meanwhile, brush vegetables lightly with 1 tsp. / 5 ml olive oil. Broil vegetables until crisp-tender, 2-3 minutes per side.
Place steaks onto plates and spoon vegetables atop. Spoon sauce over vegetables and steak and serve.
This dish goes well with brown rice, freekah, or mashed or roasted potatoes (⅓-½ cup / ≈100 g = 1 carb serving).
Serving Size:
ֲ2 oz tenderloin
Exchanges per Serving:
3 Protein, 1 Veg
---