The popular and official winter celebrations drink! Without the alcohol the kids will enjoy it as much as the adults, so you can make one for the whole family!
Click to get more Easy, Healthy Recipes
Preparation Time

3 hours

Cooking Time

75 minutes

Serves

8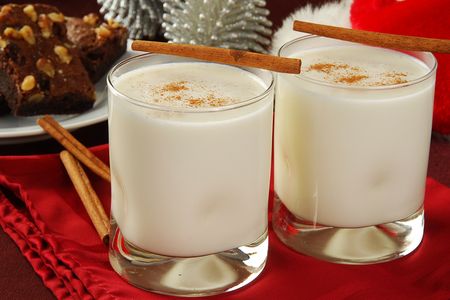 Ingredients
4 cups / 960 ml organic almond or organic grass-fed or vegan milk
6 eggs, omega-3 or grass-fed eggs or

½ cup / 60 g organic fat-free egg substitute
or 3 Tbsp. / 23 g tapioca starch plus ¾ cup water

1½ tsp. / 7½ ml organic canola oil mixed with 1½ tsp. / 5 g rice or tapioca starch
4 Tbsp. / 50 g xylitol
1½ tsp. / 7.5 ml vanilla extract
⅛ tsp. / 0.7 g nutmeg
1½ tsp. / 7½ ml rum extract (optional)
---
Directions
In a large bowl, beat eggs or starch+water until foamy, thick, and smooth. Set aside.
Add sweetener and combine until completely dissolved.
In a different bowl, add the milk, nutmeg, and vanilla and rum extracts. Whisk quickly until foam froths on top.
Pour into small pot or milk pan. Heat and stir constantly over medium high heat until liquid thickens a bit, but does not boil
Temper the eggs/tapioca replacer by slowly adding the hot milk mixture into the bowl, whisking constantly. Pour the mixture back into the saucepan.
Add the oil-starch mixture. Stir over medium high heat, stirring constantly for a few minutes until liquid thickens to desired consistency and flour and eggs/tapioca replacer have been cooked.
Chill for 3 hours and serve. Dilute with milk as desired.
Serving Size: ½ cup
Exchanges per Serving: ½ Carb, ½ Protein, 0 Fat
---