These fluffy, creamy mini-éclairs are treats for body and soul ♥. Vegan-friendly, can be gluten-free.
Click to get more Easy, Healthy Recipes
Preparation Time

20 + 60 minutes

Cooking Time

40-50 minutes

Difficulty Rating

2

Serves

12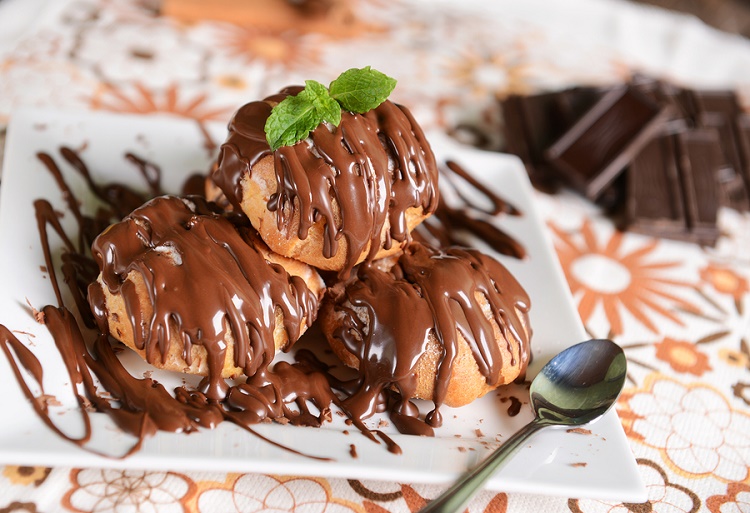 Ingredients
Puff Pastry

1 cup / 240 ml whole grain flour, regular or gluten-free blend*
½ cup / 120 ml liquid from cooked or canned (low-sodium) chickpeas ("aquafaba")
Pinch of cream of tartar
1 cup / 240 ml non-dairy milk (e.g., almond or light coconut)
2 Tbsp. / 3o ml coconut butter
1 Tbsp. / 15 ml inulin syrup or:

1½ Tbsp. / 22 ml natural no-carb sweetener powder (e.g., Stevia+erythritol blend)

1 tsp. / 5 ml vanilla extract
½ tsp / 2½ ml baking powder, preferably aluminum-free



* Homemade gluten-free pastry flour blend:

⅔ cup / 160 ml brown rice flour, preferably "sticky"/"glutinous"
¼ cup / 60 ml tapioca flour
2 Tbsp. / 30 ml amaranth flour or potato starch



Creamy Filling

¾ cup / 170 ml non-dairy milk
3 Tbsp. / 45 ml tapioca flour
1 tsp. / 5 ml vanilla extract



Ganache Glaze

¼ cup / 60 ml unsweetened dark chocolate, chopped
1½ Tbsp. / 22 ml non-dairy milk
½ tsp. / 2½ ml vanilla extract
2 Tbsp. / 30 ml inulin syrup or:

3 Tbsp. / 45 ml natural no-carb sweetener powder
---
Directions
Add milk and coconut butter to a two-quart pan, and bring to a boil over medium-high heat. Stir constantly to prevent milk from coating the bottom of the pan.
In a medium-sized bowl, beat the aquafaba with cream of tartar until stiff peaks form.
Reduce stove heat to low, and stir the flour mixture, syrup, and vanilla in to the boiling milk mixture.
Keep stirring the flour until a ball forms, about 3-5 minutes
Remove the pan from the stove, and gradually fold in the beaten aquafaba, ⅓ of the quantity at a time.
Shape the dough into 24 dome-shaped mounds using about 2 Tbsp / 30 ml each, and place on the parchment paper.
Bake in preheated oven for 30-35 minutes, turning sheet around once to ensure even baking. Check to make sure the pastry is golden brown and not burning.
Meanwhile, prepare the creamy filling: In a medium mixing bowl, combine the sweetener plus half of the milk and tapioca flour, and whisk until creamy, about 2 minutes. In a quart pan, warm remaining milk to a simmer, then whisk in the flour mixture. Increase heat to medium-low, and continue whisking moderately (taking care to catch the portions sticking to the bottom and sides of the pan) until thick, smooth, and bubbling; then whisk vigorously for 30 seconds, remove from heat, and stir in vanilla extract. Cover and set aside to cool as you continue the rest of the recipe.
Turn off oven and leave slightly ajar for 30 minutes to allow airing.
Remove pastries from oven, and allow to cool on a rack for 30 minutes.
Toward the end of the 30 minute period, prepare the glaze: Melt the chopped chocolate in a double boiler over medium heat for 1-2 minutes; when the chocolate is mostly melted, whisk in remaining ingredients, and continue to heat and whisk until smooth. Turn off heat.
Place 1½ tablespoons / 22 ml filling on the flat part of 12 of the cooled pastries, spreading a little for even coverage.
Top each filled pastry with another pastry, flat side down.
Drizzle ½ tablespoon / 7 ml glaze over each filled puff. Allow to solidify slightly before serving.
Serving size: 1 éclair puff
Exchanges per Serving: Carb, 1 Fat (= 1 Sweet)
---