These sweet, nutritious muffins make for a healthy breakfast, snack, or dessert.
Click to get more Easy, Healthy Recipes
Preparation Time

15 minutes

Cooking Time

30 minutes

Difficulty Rating

1

Serves

16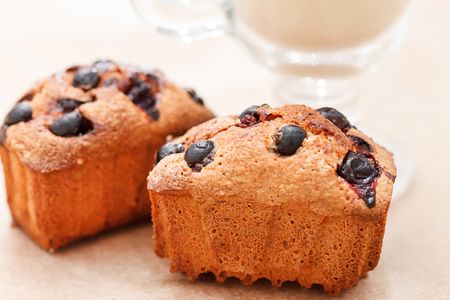 Ingredients
2 cups / 224 g currants, fresh or 5 Tbsp./ 45 g dried
½ cup / 80 g quinoa or potato flour
2 cups / 320 g brown rice flour
2 tsp. / 9 g baking powder, aluminum-free
½ tsp. / 1 g ground cinnamon
1 cup / 95 g ground almonds or almond meal/flour
½ cup / 120 ml olive or nut oil (i.e. macadamia, almond)
2 omega-3 or grass-fed egg yolks or 1 Tbsp. / 6½ g whole flaxseed + 3 Tbsp. / 45 ml water + 1 tsp. baking powder
1 tsp. / 4 g vanilla extract
2 omega-3 or grass-fed egg whites or 2 Tbsp agar powder + 2 Tbsp water
1¼ tsp. / 3 g Stevia or monk fruit sweetener powder or ½ cup inulin/chicory root sweetener
1 cup / 240 ml organic grass-fed or vegan milk
---
Directions
Preheat your oven to 375°F / 190°C. Mist 16 paper muffin cups with oil, and set them in a standard muffin pan.
Vegan preparation: Grind flaxseed to a meal, and mix with warm water In a small bowl; allow to sit for 2-3 minutes to gel. Blend in baking powder. In a small bowl large enough to accommodate a hand blender or mixer blades, mix together agar agar+water, and whip. Refrigerate the agar+water mixture until chilled.
In a large bowl, mix together the flours, baking powder, cinnamon, and ground almonds.
In a small bowl, combine the remaining, egg yolks or flaxseed mixture, oil and vanilla extract.
Gradually blend the oil mixture into the dry mixture, alternating with milk.
In a separate bowl, beat the egg whites or chilled agar agar mixture until fluffy; slowly beat in the sweetener until stiff peaks form.
Fold the currants into the beaten fluff; add this mixture to the oil-flour mixture.
Fill the muffin cups with the batter. Put the muffin baking pan over the center rack of the preheated oven and bake for 25 minutes.
Transfer the baking pan onto a cooling rack and cool for 5 minutes, before taking out the muffins to completely cool before serving.
Serving Size: 1 muffin
Exchanges per Serving: 1⅓ Carb, 1 Protein, 1 Fat
---