An important new study examines how some foods feed your fat and other foods feed your body. It turns out that not all calories are created equal. In fact, some are a lot worse for you, leading your body to store more fat and make you feel hungrier. Now you can learn how to feed your body so that you're nourished and energetic.
At the Trim Down Club, we don't believe in counting calories. When you are eating the right foods for your body, you don't have to. Here are two sample 1660-calorie menus to demonstrate why this is true, and why we say NO to calorie counting: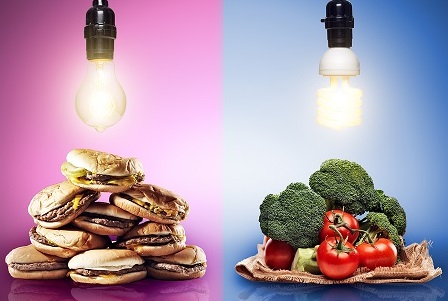 Here's what 1660 calories from McDonald's looks like:
Big Mac: 550 calories
Medium Fries: 380 calories
16 ounce Strawberry McCafé Shake: 690 calories.
And here's that same 1660 calories, in 3 meals and 3 snacks:

Breakfast
Home-baked, high-gluten bread, about 100 grams: 150 calories
Shropshire blue cheese, 30 g: 120 calories (great toasted on bread)
Lunch
Large homemade hamburger on whole grain Kaiser roll, with homemade spicy tomato sauce full of onions and parsley, about 500 calories
Pickled beets, about a cup: 105 calories
Yellow bell pepper, about a cup: 20 calories
Sweet potato, carrots and butternut squash, also about a cup, in a thin ginger sauce: 90 calories
10 Syrian green olives, 45 calories
Morning and Afternoon Snacks
50 pistachio nuts, about 160 calories, divided between the following:
1 nectarine, 60 calories
1 Granny Smith apple, 80 calories
Dinner
Spicy Moroccan Lentil Soup, 1 cup, about 250 calories
Final Evening Snack, eaten as dessert after the soup
A small square of poppyseed cake with chocolate frosting, 80 calories
Now, you already know which option is healthier for you. But which option will keep you satisfied, feeling fuller longer? It's that full menu, broken up into 3 meals and snacks—even though you get the same amount of calories in just one serving from that McDonald's meal.
There are two main reasons:
The carbs in the McDonald's fries, bun and shake are not the carbs in beets and sweet potatoes. There are more simple, refined carbs (which the body readily converts to sugar)  in that McDonald's meal than there are in that entire day's menu.

The World Health Organization is suggesting that no more than 5% of our daily energy intake—about 100 calories, or 25 grams, with 4 grams of sugar to a teaspoon—come from sugar. Yet there are approximately 400 sugar calories in just that shake.
Bottom Line: Just because it has more calories doesn't mean it's more filling!
Are You Feeding Your Body or Your Fat?
We're all individuals and we gain and lose weight differently. Our age, our sex, our activity levels, whether we've had children, our genetic heritage—all of this matters. And for all of us, calories in vs. calories out is a fundamental equation. It's a simple fact that if we take in more calories than we expend, we will gain weight. How much weight we gain, the type of weight we gain, and how quickly we gain it depends on all those individual variables—and something else that we are only starting to recognize…
All calories are not created equal.
This is so important that we'd like to say it again:
All calories are not created equal.
What your body can do with a calorie depends on that calorie—including how quickly it can be converted to glucose, the body's preferred energy source.
Our master fat-storing hormone is insulin. If we produce too much insulin, all else being equal, we stockpile more fat than someone who doesn't—or someone who produces too little insulin.
Of all the foods we can eat, sugars and simple, refined carbohydrates that can easily be metabolized into glucose, trigger the most insulin production. That's because high blood sugar is very dangerous for your body; above a certain level, it is actually toxic. Once a usable amount of blood sugar is stored as ready energy in your muscles and liver, your body stores the rest as fat, both as an energy reserve and as self-protection.
Now, an article just published in JAMA, the Journal of the American Medical Association, suggests that the more fat we carry, the more our bodies store calories, especially glucose-based calories, in our fat and as fat. Since those calories are locked away from our metabolism so we can't use them as fuel, two things happen. Our metabolism slows down and our brain tells us to eat more. In other words, all these calorie-rich foods (especially sugars and simple, refined carbohydrates) provoke metabolic changes that make us both fat—and hungry.
We are biologically programmed to respond to food cues by eating as much as we can, especially if that food is rich in sugar, fat and salt. (Our ancestors who didn't gorge on these things at every opportunity generally didn't survive.) And modern processed foods are carefully optimized with sugar, fat and salt and then advertised to us with every trick in the book—so it is almost impossible not to gorge on them.
Bottom Line: You May Be Hungry Because Your Body Stores Calories as Fat to Protect You From High Blood Sugar
So How Do I Lose All This Fat?
Stop eating sugar and refined carbs that your body easily metabolizes into glucose. Of course, you practically have to be Sherlock Holmes to track all this stuff down, because manufacturers know that if they tell us how much sugar is in the food we're eating, we won't buy it. Any food that is naturally "high fat" labelled "low-fat" (or something similar) is bound to have tons of added sugar in it—to make it edible. If you're accustomed to eating a lot of sugar—especially added or concentrated sugar, in the form of something like juice, rather than fruit—cutting it from your diet can trigger acute withdrawal cravings. Sugar is actually addictive and it lights up the same receptors in our brain that cocaine and heroin light up. Although whether we prefer Oreos to cocaine is not a question that can be ethically answered in the lab, sugar is known to be the "secret" ingredient that manufacturers use to make us overeat—even when we know we shouldn't and don't really want to!
However, once you cut sugar, it becomes easy to lose weight—without counting calories. This is why:
Protein and volume make you feel full. Most of us are used to eating an amount that makes us feel full that is based on fats and refined carbohydrates. Fat has more than twice the calories per gram (9 per gram) of carbohydrates and protein (4 cal /g). Protein is a much more stable source of energy than carbs, so it takes longer for your body to feel hungry again. Although everyone is slightly different with different tastes, your way of eating should be based on veggies, unrefined grains, fruits, lean proteins, with some fats to help satiate you. When you eat like that, it's hard to overeat. Yes, you may have to reduce your portion sizes (you also may not have to) especially when you're dealing with fat, but you don't have to count calories. You do have to understand how what you're eating affects your body. The Trim Down Club will teach you how to do just that, in straightforward, practical language. More about that at the end of this article.
When you shift to a high-quality diet, your body can use those calories to fuel you: your muscles, your brain, the fat your body actually needs. You're not forcing your body to store calories as fat in order to protect you from high blood sugar.
Bottom Line: Eat to Fuel Your Body, NOT Your Fat
How Solid is the Science?
The JAMA article builds on previous research, some more than a century old. This research includes a recent study finding that people are more active on low-carbohydrate than low-fat diets that include the same amount of calories: in short, although there were fewer calories in the low-carb diet, the body could make better use of those calories. Another recent study found that rats gained significantly more fat when they ate a diet high in refined carbohydrates than they did when they ate more calories on a diet high in complex carbohydrates—which take longer to digest.
However, the processed-food industry has a huge stake in convincing us that all calories count—equally. They will do everything they can to defend their profits, including push back against the idea that our bodies can handle some types of calories better than others. Simple, refined carbohydrates, which have historically been very rare in the human diet but are now a huge portion of our diet, are probably at the bottom of that list.
If you can—meaning, if it's safe for your metabolism—experiment on yourself for a week or two. See how you feel when you eat a diet high in refined, simple carbs, as compared to a diet in which you eat very few of them. Monitor what happens to your body. A bread-and-cheese toast will likely keep you going all morning, while that same bread with butter and jam, full of sugar, may have you hungry again in less than two hours.
The Trim Down Club Menu Planner makes this easy for you to do by producing custom menus based on the foods you enjoy that are also good for your body. We take a balanced blood sugar approach so that you eat small meals throughout the day and never feel like you are starving. Click here to learn more.
Bottom Line: Try This Yourself and See How You Feel!
References
Ludwig DS, Friedman MI. Increasing Adiposity: Consequence or Cause of Overeating? JAMA. Published online May 16, 2014. doi:10.1001/jama.2014.4133.
World Health Organization. Food Safety Sugar Consumption. Published online 5 March 2014.