Your kitchen is full of ingredients that aren't just good for your health, they're also good for your skin.
Here are 7 common ingredients and some ideas for using them.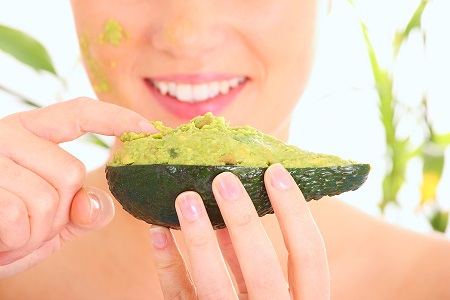 1. Apple Cider Vinegar
Your hair and skin are naturally slightly acidic, but most soaps, shampoos and conditioners are slightly alkaline and leave residue on your hair. If you live in a hard-water area but do not use a water-softening system, the water will also deposit a fine layer of mineral on your hair and skin, dulling them.
Apple cider vinegar to the rescue!
What You Need:
Apple cider vinegar, preferably organic
Distilled water
2 spray bottles, one large, one small
Instructions:
For your hair, combine 1 part apple cider vinegar and 1 part distilled water in a spray bottle. After shampooing, spray this into your hair and massage into your scalp. There is no need to rinse it out or condition. The vinegar will dissolve any mineral film or residue from your hair, leaving it soft, supple, and shiny.
For your skin, combine 1 part vinegar to 2 parts water. After cleansing, spray onto your face (close your eyes!). It will rebalance your skin and lock in moisture. While you don't need to store this in the refrigerator, doing so makes it very refreshing in hot weather.
If you're sensitive to acids, you may want to test the mixture on a small patch of skin (free from open sores, cuts, or scratches) before spraying on your fact, or to dilute further. The smell dissipates after a few minutes.
Remember: it's vinegar, so don't get it in your eyes!
2. Avocado
Avocados are packed with minerals and vitamins, great fats and proteins. If you have dry, stressed, or "aging" skin, try this terrific mask to moisturize and encourage collagen production.
What You Need:
Half of a ripe avocado, peeled and seeded
¼ cup true maple syrup or honey, warmed
Blend together until smooth. Apply to your face and neck and let dry for 20-30 minutes, then rinse with warm water. Your skin will soak up all that good nourishment!
If you have oily skin, try this mask:
What You Need:
Half of a ripe avocado, peeled and seeded
2 Tbsp./ 28 ml honey, warmed
or true maple syrup
2 Tbsp./ 28 ml lemon or lime juice
¼ cup / 60 ml extra virgin olive oil
2 or 4 Tbsp / 30 or 60 g raw sugar
2 Tbsp. / 36 g of mineral salt, such as Aztec, Celtic, or Dead Sea (optional)
2 green tea bags, lightly rinsed
or cucumber slices
In a blender or with a stick blender, puree the avocado, honey/syrup, and juice. Then slowly add the oil until you have a thick cream, and incorporate the sugar and salt. If you prefer not to add salt, add 4, rather than 2, tablespoons sugar, and stir in with a wooden spoon.
Wash your face thoroughly, then massage a generous amount of this mask, exfoliating your skin with circular motions for several minutes. Now apply the rest of the mask to your face, cover your eyes with the tea bags or cucumber slices, and lie back and relax for at least 15 minutes.
Like all masks, rinse off with warm water and pat your skin dry. Use 1 or 2 times a week for best results.
Remember that avocado oxidizes very quickly, so any mask you don't immediately use should be refrigerated in a well-sealed container, and discarded after 5 days.
3. Coconut Oil
Coconut oil is an incredibly versatile beauty ingredient.
Rub it into your cuticles to support healthy nail growth.
Use it as a makeup remover (it will take off the toughest waterproof mascara).
Pack a little of this semi-solid "butter" into a small pot with a lid, and use as a lip balm.
Used as an undereye moisturizer (it's light enough!) or a great antioxidant night cream.
It's a great body lotion by itself, or as the base for a DIY scented lotion.
For a great exfoliating body scrub, mix 1 part oil to 2 parts mineral salts or raw sugar
For deep conditioning, work heated oil into your hair and let it sit for an hour, then wash.
Just remember that as an oil, it won't play well with fabrics, especially silk, so be sure to let it absorb into your skin before dressing. If you use it in the bath, clean it out of the tub so whoever comes next doesn't slip, fall, and break something.
4. Green Tea
Green tea is extremely rich in antioxidants, including catechins and other flavonoids, as well as polyphenols. It also contains caffeine and vitamin K2, both of which are considered excellent for under-eye circles and puffy eyes.
Make a strong cup of green tea using 2 teaspoons / 6 grams leaves or two bags of high-quality tea. After steeping, place the bags of green tea in the freezer. When they are thoroughly chilled, take them out and place them on your eyelids. Relax for 10-15 minutes.
Green tea also has a lovely, calming scent, so you can brew a pot of it to add to your bath for a soothing evening ritual.
5. Honey or Maple Syrup
Honey's medical properties have been known for literally thousands of years. Manuka honey from New Zealand is particularly acclaimed for its healing properties.
Maple syrup has been found in scientific research to support metabolic health, despite its sugar content. It has been used widely as a natural, vegan ingredient in natural beauty formulae to restore softness and suppleness to skin and hair.
Use honey on old or new scars to lighten them.
Honey's natural bleaching effect means that you can use it to lighten your hair. Add 1 part raw honey to 6 parts distilled water (and 1/3 part cinnamon for a really dramatic affect). Work into your hair and let sit for an hour before rinsing it out. Test on a small, inconspicuous piece of hair first to make sure you like the results!
Mix 1 part each honey and sweet almond oil and pat into the skin beneath your eyes, several times a week. Let sit for 10-15 minutes before rinsing. This will moisturize the skin and lighten your under-eye circles.

Maple syrup

is recommended as a natural remedy for dry or very dehydrated hair. Mix it with a high-quality buttery fat (such as coconut oil or whipped avocado), heat until just creamy, and comb it into your hair; leave in for 20 minutes, then shampoo.

Maple makes a marvelous mask! Mix 2 tablespoons with a gel-like slurry made from 1 tablespoon ground flaxseeds + ¼ cup / 60 g warm water, and apply generously to your face and neck, rubbing gently to get some exfoliation action; leave on for 20 minutes, then rinse thoroughly.
6. Lemon Juice
Lemon juice is rich in vitamin C, a powerful but fragile antioxidant. For those of us cursed with oily skin, lemon juice—with a little help from willow (salicylic acid, the active ingredient in aspirin, derived from white willow bark)—is a blessing.
What You Need:
1 lemon
Old-fashioned citrus juicer
Baking soda
3-6 aspirin
Warm honey or maple syrup (optional)
Mortar and pestle, or something that can be used as such
Tablespoon
Small dish
Juice the lemon and pour the juice into the small dish, one tablespoon at a time. For every tablespoon, you will crush 3 aspirin to powder. Dissolve the powder in the lemon juice. If you have dry or combination skin, stir in a tablespoon of the warm honey or maple syrup. Use this as an all-over mask or pimple spot-treatment. Let dry, then remove with a warm, damp washcloth, neutralizing with a bit of baking soda.
You can also make a paste of lemon juice and baking soda and brush your teeth with it to whiten them.
7. Cultured Milk
Buttermilk, yogurt, and sour cream—cultured dairy or vegan—are excellent sources of lactic acid, which is a gentle exfoliate for dry skin.
To make a yogurt or sour cream mask, use a thick product with active cultures, like Greek yogurt. If it's runny, let it stand, then pour off the excess liquid. Wash your face and neck with a gentle cleanser, then apply a thick layer of yogurt or sour cream to your skin. Let dry and leave on for about 10 minutes, then rinse.
But that's not all!
We would be gravely remiss not to mention Cleopatra's famous milk bath…
What You Need:
2 cups / 260 g powdered full-fat cow or goat milk, buttermilk, fermented soy milk, or cultured yogurt
1 cup / 280 g mineral salts, such as Aztec, Celtic, or Dead Sea
1 cup / 100 g oat flour, which is odorless and colorless.
½ cup / 130 g corn starch, to thicken the water and make it milkier.
¼ cup / 60 g baking soda
No more than 2 teaspoons / 10 ml of an essential oil that you enjoy. If you are using goat's or fermented soy milk, choose a stronger scent, such as lavender.
Mix the essential oil into the baking soda to disperse it.* Then mix all other ingredients together and store in a clean, dry container. To use, draw a very hot bath and sprinkle in ¼ to ½ cup of the mixture and allow it to dissolve and the steam to scent your bathroom. When the water is cool enough for your liking, immerse yourself in it and feel very decadent.
*A note about essential oils. They are enormously concentrated, so never apply them directly to your skin. To test if you are sensitive to your oil of choice, combine a drop with ½ tsp / 3 ml of a carrier oil, like olive oil, then rub the mixture on the inside skin of your upper arm. If after several hours you don't develop redness or itching, you are probably not sensitive to this oil. Essential oils are safe for skin use in the milk bath concentration, especially if you don't react to them at the higher skin-test levels.
One Note about Egg Whites…
We wanted to address this issue because egg white masks are a classic. However, with the exception of the essential oils, all the ingredients we've used here carry a low risk of food safety issues.
Raw egg whites are not considered safe to eat, especially if you have impaired immune function. In addition to neutralizing an important B-vitamin in your body, raw eggs can contain bacteria, including E. coli and Salmonella. And if you're a cosmetic user, you know to avoid bacterial contamination of your makeup. While all of us have bacteria on our skin (some of it very beneficial), those of us with acne have lots of it that isn't very beneficial. All it takes is rubbing infected whites from one bad egg into your pores for you to develop a severe, widespread skin infection. Don't risk it.
Now that you know what foods in your kitchen are great for your hair and skin….