The pomegranate's origin lies somewhere in the vast birthplace of human civilization that runs from Egypt to India.
From Turkey and Arabia to modern Iran and Iraq, all the way to Afghanistan and India, pomegranates have been grown for millennia. Pomegranate trees have been grown in Latin America and California since their introduction by Spanish settlers in 1769, and as far north as Virginia, where Thomas Jefferson began growing them in 1771.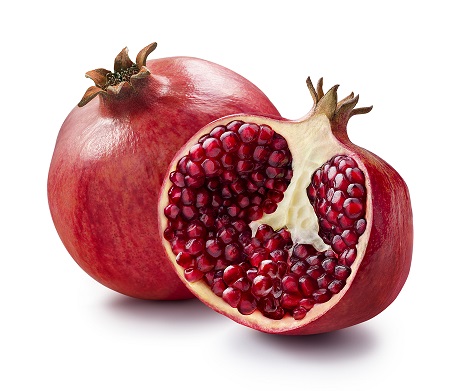 Now pomegranates are widely cultivated through the entire Mediterranean region, the Middle East and the Caucasus, north and tropical Africa, the entire Indian subcontinent, Central Asia, the American Southwest and Latin America. Pomegranates have recently become easier to find in the supermarkets in Europe and North America.
Due to their many seeds and ability to bear fruit in hot, dry climates, the pomegranate is sometimes used as a religious icon of fertility.
For thousands of years, pomegranates have been used to treat a tremendous variety of diseases.
Pomegranates are a true superfood: the seeds themselves, juice, paper-thin membrane and rind are loaded with disease-fighting anti-oxidants and other phytochemicals.
They are currently being studied for their ability to fight cancer, diabetes and heart disease.
Pomegranates also appear on many coats of arms, perhaps because they are such a powerful ally in the human struggle against disease and death.
The unique sweet-tart taste of the pomegranate means that it pairs very well with savory foods. Dehydrated seeds, or anardana, are widely used in Indian cuisine, flavoring not just chutneys, but even pakhoras and aloo gobi.
Pomegranate molasses or syrup is a terrific change of pace from Balsamic vinegar molasses. Look for a no-sugar-added brand in the international aisle of your local supermarket or at your local Middle Eastern or Indian market, then experiment with it.
Pomegranate season runs from November to the end of January, and pomegranates are often served during Rosh Hashanah, the Jewish New Year.
Want to know if a pomegranate is ripe? Tap it; it should sound metallic.
You can store ripe pomegranates for up to two months in your refrigerator.
How to Eat a Pomegranate…
Without a mess.
Cut off the crown. Now score the rind with a knife. Try not to cut into the arils, which will release their juice. Now draw water into a bowl and, holding the pomegranate under the water in it, break it into sections. Then separate the seeds from the membrane, which will float. The seeds will sink. Remove the membrane and drain the seeds in a colander. Enjoy.
Pomegranate Recipes
Muhammara
Muhammara is originally from Aleppo, the ancient Syrian city of spices. It's pretty special.
Ingredients
½ tsp. / 1.5 g hot red pepper flakes, dried
1 tsp. / 5 g cumin, ground
2 tsp. / 10 mL. pomegranate molasses
1 Tbsp. / 15 mL. fresh lemon juice, or to taste
2 to 4 garlic cloves, finely chopped and mashed with ½ tsp. salt or substitute to form a paste
⅔ cup / 71 g fine whole grain bread crumbs or sesame seeds, freshly ground
⅓ cup walnuts / 45 g, finely chopped, then lightly toasted
7 oz. / 200 g roasted red peppers, drained
3/4 cup / 177 mL olive oil, extra-virgin
toasted pita triangles or legume crackers
Instructions
In a food processor, blend everything but the olive oil, until smooth.
With the motor running, add the oil in a thin stream until it is thoroughly blended.
Transfer muhammara to a bowl, then serve at room temperature with pita triangles or legume crackers.
Ghdaa Asla with Pomegranate and Orange Salsa
You can serve this beautiful, ruby-studded salsa over fish, chicken, tofu, or even lamb or lentils, which would be truly Middle Eastern.
Ingredients
1 lb. / 454 g fish/poultry/meat or plant-based protein, cut into 4 fillets
or lentils/pulses, cooked and drained
For the marinade:
1 tsp. / 2 g cayenne pepper, ground
1 tsp. / 2 g fennel, ground
1 tsp. / 2 g black pepper, ground
1 tsp. / 6 g salt
2 Tbsp. / 30 mL lime juice
¼ cup / 60 mL olive oil
2 cloves fresh garlic, crushed
⅓ cup / 80 mL white wine
For salsa:
1 tsp. / 2 g cumin seeds
2 Tbsp. / 1 g cilantro, finely chopped
2 Tbsp. / 10 mL olive oil
½ onion, finely diced
Juice of 1 lime
1 jalapeño peppers, or to taste, membranes and seeds removed, then finely diced
arils (seeds) from ½ large pomegranate
3 oranges, peeled and all the pith, membranes and seeds removed, plus all remaining juice
⅛ tsp. / ¼ g black pepper, ground
Instructions
Mix all the marinade ingredients, except for 2 tablespoons / 30 mL oil.
Arrange the fish/meat/poultry/tofu/legumes in a non-reactive dish (i.e., glass), and pour over the marinade.
Allow to marinate for 1-2 hours if fish, longer for other items.
Make the salsa by combining all the salsa ingredients together in a bowl. Mix well, trying not to break the arils.
Refrigerate until ready for use.
Heat the remaining oil in a large sauté pan over medium high heat, then add your marinated item(s), and sauté until golden on all sides and fish/meat/poultry are completely cooked (this will take from 3 to 5 minutes per side, depending on thickness).
Transfer to serving dish or individual plates, and spoon the salsa on top or on the side. Serve immediately.
Serves 4