There is always a place at any party for stuffed mushrooms. Turn this classic into a guilt-free culinary delight – delicious dairy or vegan!
Click to get more Easy, Healthy Recipes
Preparation Time

15 minutes

Baking Time

15 minutes

Difficulty Rating

1

Serves

4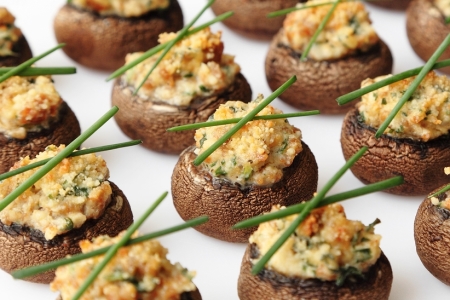 Ingredients
2 Tbsp. / 50 g semi-soft goat cheese

or cashew cheese (raw cashews soaked overnight and pureed, + ½ Tbsp. lemon juice)

1 Tbsp. cup / 3 g fresh chives, chopped
4 tsp. / 20 ml mustard seed or olive oil
4 baby Portobello mushrooms (2-3 inches / 5-7½ cm across), cleaned and towel-dried, stems removed and finely chopped
¼ tsp. smoked paprika
1 fresh clove or ½ tsp. granulated garlic
⅛ tsp. ground black pepper
¼ tsp. grated lime zest
Salt or substitute to taste
1 Tbsp. / 6 g finely grated Romano or Parmesan cheese or:

or 1 Tbsp. / 7 g pine nuts + 1 tsp. / 4 g nutritional yeast, ground together to coarse flour
---
Directions
Preheat oven to 200 °C/400 °F. Place silicon-baking parchment on a baking tray.
Combine goat or cashew cheese with chives, and set aside.
Heat oil over medium, and add mushrooms and chopped stalks. Cook the mushroom caps until just tender, flipping them to ensure even browning. Remove caps to the parchment, placing them open side up.
Add the paprika, garlic, pepper, zest, and salt or substitute (if desired) to the mushroom stems in the pan; stir and sauté until fragrant.
Add the hot seasoned stems to the cheese-chive combination, and blend well in a food processor or food chopper with an 'S' blade.
Fill each mushroom cap with 1 tablespoon of the soft cheese mixture. Sprinkle with grated cheese or ground nut-yeast mixture.
Place the tray in the oven on a middle rack, and bake for approximately 15 minutes, until the mushrooms are lightly browned.
Serving Size: 1 mushroom
Exchanges per Serving: ⅛ Carb, ½ Protein, 1 Fat
---