When you like it hot, go for a ladle of fire. Nothing beats this smokin' hot turkey stew with nutritious rutabaga and carrots.
Click to get more Easy, Healthy Recipes
Preparation Time

15 minutes

Cooking Time

35 minutes

Difficulty Rating

1

Serves

10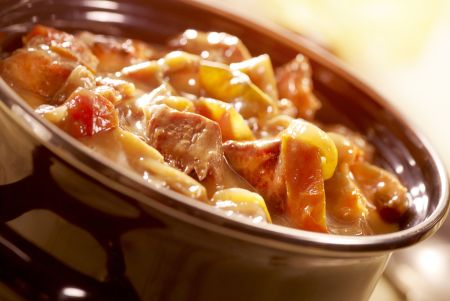 Ingredients
3 Tbsp. / 45 ml olive oil
2 onions, chopped
1 red bell pepper, chopped
2 jalapeno peppers, chopped
6 tomatoes, chopped
5 garlic cloves, minced
2.2 lb. / 990 gm raw turkey breast, cut to bite size
4 cups / 960 ml water
1 cup / 130 gm carrots cut to cubes
1 cup / 140 gm rutabaga, cut to cubes
½ cup / 70 gm black pitted olives
2 Tbsp. / 16 gm chili powder
1 tsp. / 3 gm red pepper flakes
3 Tbsp. / 45 ml hot sauce
---
Directions
In a large Dutch oven, heat the olive oil over high heat; add the onions and sauté until skin turns translucent.
Add the peppers, tomatoes, and garlic; continue to sauté for a minute more.
Add the turkey pieces a handful at a time, and stir after each addition; lower the heat and simmer, covered, for 5 minutes.
Stir in the carrots, rutabaga, chili powder, red pepper flakes, hot sauce, and water.
Turn up the heat and bring back to a boil; let boil for a couple of minutes before reducing the heat.
Uncover and simmer for about 20 minutes more.
Serving Size: 1½ cups / 340 ml
Exchanges per Serving: ½ Carb, 2 Protein, 1 Veg
---