If you are running short of time to prepare a meal, grab a roast turkey breast in the prepared foods section of the supermarket or look in the freezer for leftovers, and rummage through your pantry for the rest of the ingredients. Gluten-free and can be Paleo-friendly.
Click to get more Easy, Healthy Recipes
Preparation Time

10 minutes

Cooking Time

12 minutes

Difficulty Rating

1

Serves

6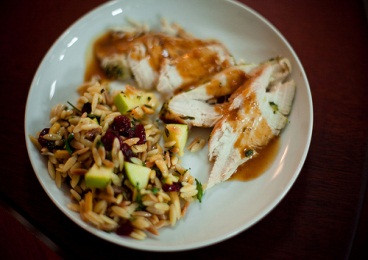 Ingredients
3 cups / 720 ml water
Salt to taste
1½ cups / 300 g whole grain orzo or 2 large raw parsnips, sliced
1 lb. / 454 g turkey breast, roasted and sliced into 8 even slices of about ½ inch / 1½ cm thick
¼ cup / 60 ml balsamic vinegar
1 Tbsp. / 14 ml olive oil
Juice of 1 lemon
2 cloves garlic
½ cup / 67½ g pine nuts, chopped
2 Tbsp. / 10 g dried unsweetened cranberries
1 tsp. / 2½ g paprika
1 cup / 150 g zucchini, diced
4 cups / 113 g baby spinach leaves
---
Directions
Bring the water to a boil in a pot, add the orzo or parsnips, cover, and cook over high heat for approximately 10 minutes.
Drain in a sieve, preserving the water.
Place the spinach and roasted turkey breast in the cooking water for 5 minutes. Drain well and set aside.
In a large bowl, whisk together the balsamic vinegar, olive oil, lemon juice, garlic, and paprika.
In a separate bowl, combine the orzo or parsnip, zucchini, pine nuts, cranberries, and blanched spinach, and add salt and pepper to taste.
Pour half of the balsamic mixture and toss well to combine.
Arrange turkey slices in a neat layer on a serving platter. Pour the remaining balsamic mixture across the layered turkey slices. Scoop the orzo/parsnip salad onto the platter alongside the turkey slices.
Serving Size: 1 cup / 200 g
Exchanges per Serving: 1 Carb, 3 Protein, 0 Fat
---