This vegan high-fiber flavor fest is a healthy meal-in-one.
Click to get more Easy, Healthy Recipes
Preparation Time

10 minutes

Cooking Time

40 minutes

Difficulty Rating

2

Health Level

5

Serves

8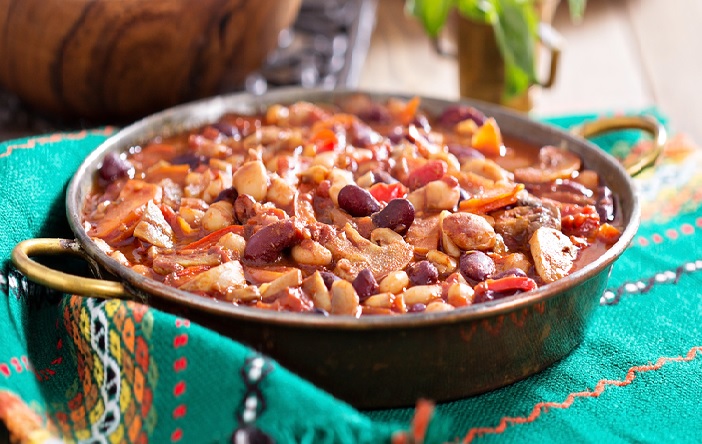 Ingredients
3-4 Ancho chili peppers
2 cups / 480 ml water
¼ cup / 60 ml olive oil
1 lb. / 454 g mushrooms, quartered
1 lb. / 454 g zucchini, diced
2 medium onions, diced
3 cloves fresh garlic, chopped
1 fresh red or green hot chili pepper, chopped or thinly sliced
1 Tbsp. / 5 g ground cumin
1 Tbsp. / 5 g ground coriander seed
3-4 sprigs of fresh thyme, chopped
1 tsp. / 1 g oregano or marjoram
¼ cup / 64 g tomato paste
12 oz / 340 ml beer
15 oz / 450 g black beans, cooked, drained, and rinsed
1 lime, juiced
---
Directions
Seed and stem Ancho chili peppers. Add to a large lidded saucepan with water, and bring to a boil. Reduce heat to low, cover, and simmer for 10 minutes
In a large pot, heat olive oil over medium high heat. Add mushrooms, brown for 7 to 8 minutes, then add zucchini, onions, garlic, chili peppers, spices, herbs, salt and pepper; stirring frequently for 10 minutes.
Add tomato paste and stir for 1 minute; add in the beer and deglaze the pan.
Stir in the beans
Puree Ancho chilis in ½ cup of the water used to soften them, then add to the chili.
Bring to a boil, then reduce heat and simmer for 10 minutes.
Add lime juice before serving.
Serving size:1 cup / 240 g
Exchanges per Serving: 1 Carb, 1 Protein, 1 Fat, 1 Veg
---