Never worry about your holiday "fruitcake" being rejected again - by your guests, recipients OR your body! This healthy take on an Italian classic will keep your spirits and your belly light. Options for gluten-free and vegan included.
Click to get more Easy, Healthy Recipes
Preparation Time

6 hours (1 active + 5 leavening)

Cooking Time

1 hour

Difficulty Rating

2

Health Level

3

Serves

20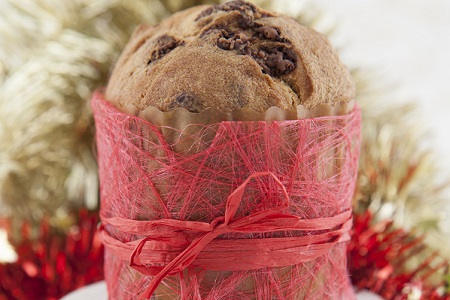 Ingredients
3½ cups / 500 g whole hard white flour or:

whole grain gluten-free blend

1 cup / 200 g sugar, preferably whole raw or coconut or:

1½ cups / 300 g xylitol and/or inulin sweetener

⅔ cup / 160 g butter, preferably organic pastured, softened or:

organic coconut butter, softened

1 Tbsp. / 12 g active yeast
4 whole eggs, preferably organic omega 3 and/or pastured*
3 egg yolks, preferably organic omega 3 and/or pastured*
Pinch of salt
1 cup / 145 g raisins and/or dried currants, cranberries, cherries
2-2¼ cups / 480-540 ml warm water
1-2 tsp. / 5-10 ml rum or brandy extract to taste (optional)
¾ cup / 70 g orange peel, chopped
Zest of 1 lemon, finely grated
1 vanilla bean or 1 Tbsp. / 15 ml vanilla extract
1 tsp. / 5 ml oil, preferably nut

* For a vegan choice, substitute all eggs and yolks with 1 tsp. / 5 g each of baking soda and baking powder (preferably aluminum-free) and 1¼ cups / 300 ml of flaxseed gel. To make the gel, grind together ½ cup / 85 g whole flax seeds with 2 cups / 480 ml of warm water until a gel forms among the seeds (which will remain whole), and strain the gel through a sieve mesh while agitating the seeds against the mesh with a rubber spatula.
---
Directions
Preheat oven to 200°C / 400°F. Mist or brush a deep cake mold or brioche pan with oil.
Dissolve 2½ teaspoons / 10 g yeast in ¼ cup / 60 ml warm water in a large bowl, and allow to sit for 10 minutes.
Add ¾ cup / 75 g of flour. Knead until mixture is smooth and not sticky, sprinkling more flour in small amounts as needed. Roll dough into a ball, and cut a cross across the top with a knife.
Cover the bowl with a cheesecloth or plastic wrap, set it in a warm place, and let the dough rise for 30 minutes
Meanwhile, soak the dried fruit in 2 cups 480 ml warm water to rehydrate it; add rum or brandy extract, if desired.
When the dough has doubled, return it to the mixing bowl, and knead in 2½ cups / 250 g of flour, 2 whole eggs or 120 ml flaxseed gel and 1 teaspoon / 5 g each of baking soda and powder, and remaining ½ teaspoon / 2 g yeast. Knead it with your hands or in an electric mixer fit with a dough hook on low speed until the mixture is homogeneous.
Then add ½ cup / 100 grams of sugar and let it absorb well. Only after the sugar is absorbed well, add ¼ cup / 60 g of butter. Knead until the butter will not be built at all. You'll know because the dough will have an elastic, smooth and not sticky.
Take it back and put it to rise, always in a bowl covered with foil, in a warm place. Expected to double its volume in about 1½-2 hours.
After the dough has risen, add 2 eggs and 3 egg yolks or remaining flaxseed gel, along with the remaining flour. Knead as before until dough is smooth.
Add the remaining sugar/sweetener and a pinch of salt. Once they have been well-incorporated, mix in all but 1 teaspoon/ 5 g of the remaining butter.
Add all fruit and contents of vanilla bean or vanilla extract. Combine well, an knead until you obtain a smooth, elastic dough that is not sticky.
Cover the bowl and set aside in a warm place to allow the dough to rise until it has doubled in volume, approximately 2-3 hours.
After the dough has risen, place it in the mold /pan, cover, and set aside to rise a final time, until the dough reaches the edges.
Place the mold/pan in a roasting pan filled with water toward the bottom of the oven.
After 5 minutes of baking, make a cross cut on the top of the cake with a sharp knife. Fill these ridges with the last 1 teaspoon / 5 g of butter.
Return the mold/pan to the oven, and allow to bake for another 10 minutes of cooking
Lower oven temperature to 180ºC / 350ºF, and bake for approximately 45 minutes, until a toothpick inserted in the middle comes out clean and nearly dry. Check on the cake periodically: if the surface is darkening to more than a golden brown, lower the temperature by 10ºC / 50ºF and continue baking.
Allow to cool briefly before gently removing from the mold/pan.

Serve warm or allow to cool completely before wrapping tightly and storing for later use; can be frozen for longer-term storage.
Serving size:2 oz / 60 g
Exchanges per Serving: 2 Carb, Protein 0, 1½ Fat
---