This savory and succulent indulgence is light yet satisfying, and as nourishing as it is elegant and decadent. Low-carb, gluten-free, and vegan-friendly.
Click to get more Easy, Healthy Recipes
Preparation Time

20 + 15 minutes

Cooking Time

30 minutes

Difficulty Rating

3

Health Level

5

Serves

6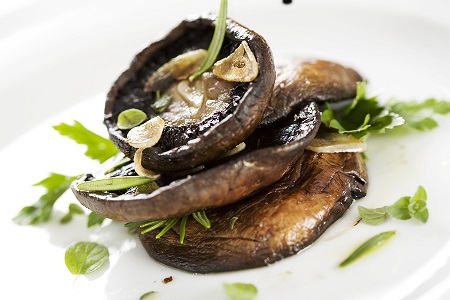 Ingredients
4 large portobello mushrooms
2 Tbsp. / 30 ml olive oil
2 cloves fresh garlic, minced
1 yellow/white onion, halved and sliced
2 tsp. / 10 g sugar, preferably whole/raw or coconut
1 qt+ / L+ ml vegetable stock/broth, preferably low-sodium
3 Tbsp. / 45 ml Madeira or red wine or cooking sherry or 1 tsp. / 5 ml brandy extract
1 Tbsp. / 15 ml Worcestershire sauce, preferably without corn syrup or anchovies
3 Tbsp. / 45 ml soy sauce, preferably organic low-sodium/MSG-free
1 tsp. / 2 g smoked paprika
½ tsp. / 1⅔ g mustard powder
½ tsp. / 1 g ground black pepper
2 tsp. / 5 g cornstarch, preferably organic
2 tsp. / 4 g powdered or 3 Tbsp. / 6 g flaked agar
Leaves from ¼ bunch fresh parsley, coarsely chopped
---
Directions
Slice the mushrooms to thin strips, whole or caps and stems separately.
Warm 1 tablespoon / 15 ml oil in a deep, lidded non-stick 2-quart/liter sauté pan over medium-high heat.
Add garlic and onions, and stir to coat the onions well. Sauté for approximately 5 minutes until golden and tender.
Sprinkle 1 teaspoon / 5 g of the sugar over the mixture and continue cooking for another 5 minutes. Add vegetable broth to the pan to prevent the onions from drying out or burning. Remove to a glass bowl for later use.
Warm 1 tablespoon / 15 ml oil in the pan and add the mushrooms. Caramelize in the same manner as the onions in steps 2 and 3 until mushrooms are just tender.
Meanwhile, whisk together vegetable broth, alcohol or extract, Worcestershire and soy sauces, paprika, mustard, and pepper.
Lower burner heat to low-medium and pour in broth mixture and caramelized onions. Cover and braise for approximately 5-10 minutes until mushrooms are completely tender, occasionally turning gently to ensure even cooking.
Strain mixture in a colander, reserving the liquid. Place solids evenly in a 1½-quart/liter loaf pan, and garnish with parsley.
Return all but ¼ cup / 60 ml of the liquids to the pan (allow the small remainder to cool), whisk in the cornstarch, and cook until the fluid has thickened and cleared. Whisk in additional vegetable stock/broth as needed to maintain a syrupy consistency.
Add the agar to the reserved cooled liquid, and allow to stand for approximately 15 minutes.
Whisk the agar into the larger mixture and bring to a gentle boil. Lower heat and simmer while stirring until the agar has completely dissolved and the liquid is clear.
Pour the liquid over the mushrooms in the loaf pan. Ensure complete coverage just to the upper edges of the mushroom mixture; if there isn't enough liquid, add vegetable broth/stock and stir gently.
Allow to gel completely at room temperature until solid.
14. Turn over onto serving plate, garnish with additional fresh parsley, and serve.
Serving size:
1 cup / 300 g
Exchanges per Serving:
⅔ Carb, 0 Protein, 1 Fat
---