An option for roast that's outside of the usual beef, and surprisingly quick and simple. With all the savory seasonings, you'll never miss the salt. Paleo and keto-friendly.
Click to get more Easy, Healthy Recipes
Preparation Time

5 minutes

Cooking Time

1 hour

Difficulty Rating

1

Health Level

4

Serves

16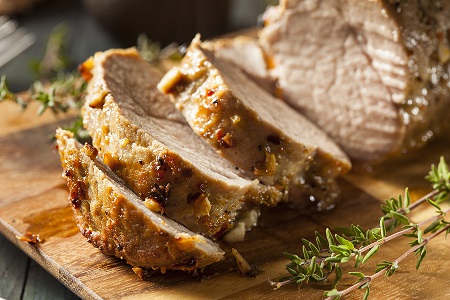 Ingredients
1 3-lb / 1½-kg boneless pork loin roast
1 Tbsp. / 6 g black peppercorns, crushed
2 Tbsp. / 10 g Parmesan cheese, grated
2 tsp. / 2½ g dried basil
2 tsp. / 2½ g dried rosemary
2 tsp. / 2 g dried thyme or 1 tsp / 1½ ground thyme
¼ tsp. / ¾ g garlic powder
¼ tsp. / 1½ g salt
---
Directions
Preheat oven to 350ºF / 180ºC.
Pat roast dry with paper towel.
In small bowl, combine all rub ingredients well, and apply to all surface of meat.
Place roast in a shallow pan, and roast in in preheated oven for 1 hour (20 minutes per pound), until internal temperature on a thermometer reads 145ºF / 60ºC.
Remove roast from oven let rest about 10 minutes before slicing to serve.
Serving size:
3 ounces / 85 g
Exchanges per Serving:
0 Carb, 3 Protein, 0 Fat
---