Upgrade your mornings or tea times with this super-scone. Can be made vegan, gluten-free, and FODMAP-friendly.
Click to get more Easy, Healthy Recipes
Preparation Time

15 minutes

Cooking Time

10 minutes

Difficulty Rating

1

Health Level

5

Serves

8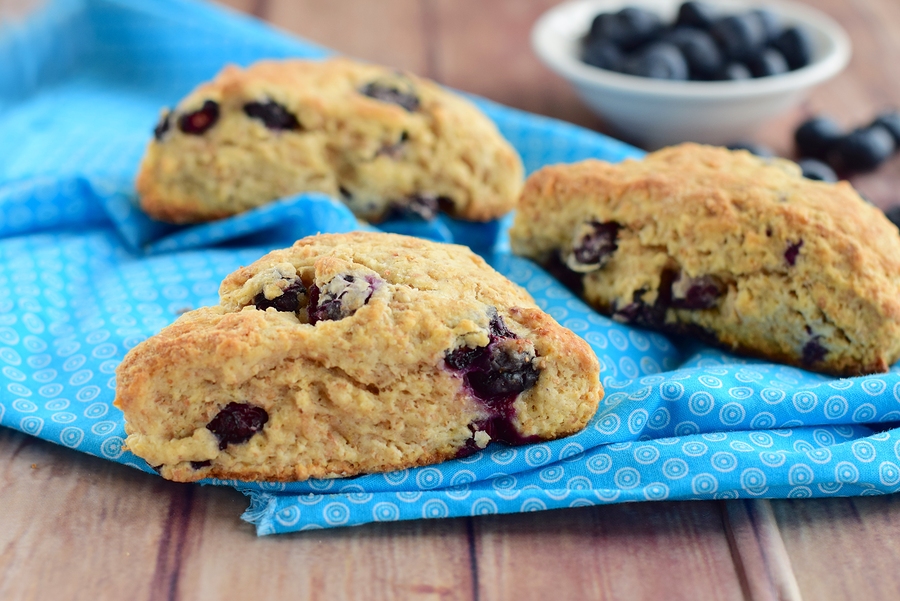 Ingredients
4 Tbsp. / 56 g butter or coconut oil
2 cups / 240 g whole wheat or spelt flour or gluten-free blend for baking
2 tsp. / 10 g baking powder, preferably aluminum-free
1 tsp. / 5 g baking soda
½ tsp. / 1½ g cinnamon
3 Tbsp. / 42 ml pure maple syrup
1 cup / 150 g fresh or frozen blueberries or 2½ Tbsp. / 25 g dried
2 tsp. / 10 ml lemon juice
⅔ cup / 160 ml dairy or vegan milk
---
Directions
Preheat oven to 425°F / 220°C. Line baking sheet with parchment paper.
Place flour, baking powder, and baking soda in a bowl, and knead int the butter using your fingertips until the mixture resembles fine bread crumbs. Stir in maple syrup and blueberries.
Mix the lemon juice with the milk and pour it over the crumbly mixture. Quickly mix using a blunt knife, to form a soft dough, adding a little extra milk if the dough is too dry. Turn out onto a floured surface and lightly knead a few times, then shape into a circle, patting it out with your bands to about ¾ inch / 2 cm thick.
Cut into 8 wedges, place on baking sheet, and brush the tops with milk. Bake in preheated oven 10-12 minutes, until well risen and golden.
Serving size:1 scone (approximately 2½ oz. / 70 g baked)
Exchanges per Serving: 1½ Carb, ½ Protein, 1 Fat
---