Beef meatballs with an Asian touch, for a fabulous dinner which is decadent, yet healthy!
Nutritional values per serving: Kcal: 525 - Protein: 32g, Fat: 41g, Net Carb: 6g
Click to get more Easy, Healthy Recipes
Preparation Time

20 minutes

Baking Time

0 minutes

Difficulty Rating

2

Health Level

4

Serves

3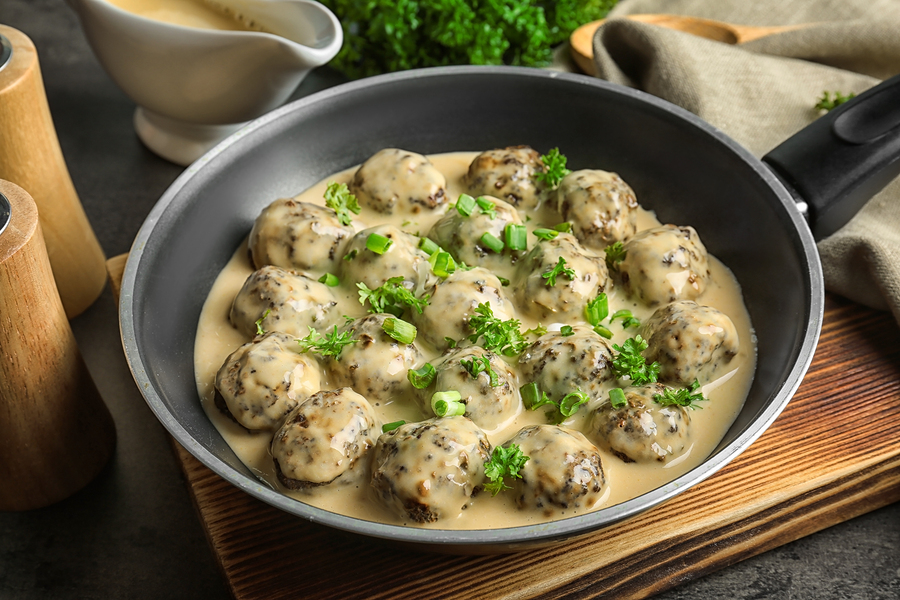 Ingredients
Coconut oil, 1 tablespoon (13 g)
Beef, (better if grass-fed), ground, 1 pound (454 g)
Garlic, 2 garlic cloves (8 g)
Almond flour, 1/2 cup (8 g)
Almond milk, 2 tablespoons (42 g)
Salt, 1 tablespoon (18 g)
Coconut milk, 1 cup (227 g)
Vegetable stock (broth), 1 cup (235 g)
Coriander seeds, 2 teaspoons (4 g)
Cinnamon, 1 teaspoon (3 g)
Ginger root, 1 inch (6 g)
Lime, 1/2 lime zest (33 g)
Spring onions (scallions), 1 green onion (12 g)
Chili powder, 1/2 teaspoon (1 g)
Basil, 1 tablespoon (3 g)
Instructions
In a bowl combine almond flour and almond milk to create a paste.
In a pan, heat the coconut oil and cook scallion and garlic over low-medium heat for a couple of minutes.
Add salt and almond paste to the pan with the ground beef.
Once scallion and garlic are ready ,add them to the ground beef and mix well.
With your hands, create meatballs (about 2 inches).
Using the same pan, brown the meatballs. Place the meatballs along the edge of the pan, leaving the centre of it empty.
Add the spices (not the ginger) in the centre of the pan while the meatballs cook.
Once the meatballs are browned on each side, add coconut milk and broth to the pan.
Add the ginger and let sit for 15 minutes or until cooked throughout.
Garnish with basil leaves.
---