The jury has been out on whether you can be healthy and overweight at the same time, but recent evidence is pointing to "no." Here's why, and what it has to do with metabolic syndrome.
A 2013 article published in the European Heart Journal[1] suggested that if you were metabolically fit, you could be overweight or even obese, and have no greater risk of dying of cancer or heart disease than your normal weight peers.
Recent research has significantly changed that picture. Despite a growing movement to promote health at any size, saying that being overweight isn't as bad as society makes it out to be, we now know that being overweight significantly increases your risk for heart disease, cancer, diabetes, and others.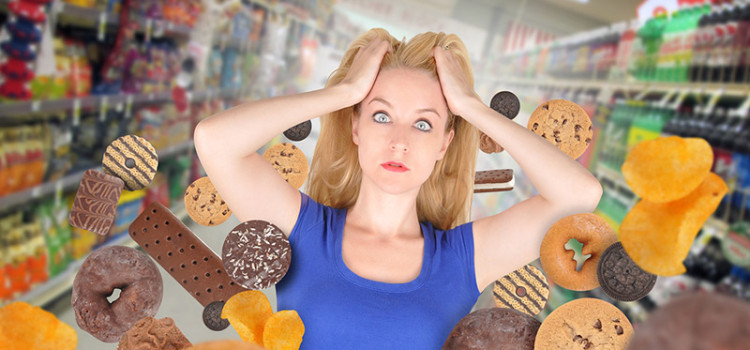 And it begins with something called
metabolic syndrome.
Metabolic syndrome affects 44% of the U.S. population older than age 50, and affects more women than men. It's a huge and growing problem that more and more people are becoming aware of. But if you've never heard of it, or want to know what it's all about, then you're in the right place.
We are going to answer the following questions today:
What exactly is metabolic syndrome?
How do you get metabolic syndrome?
What can you do about metabolic syndrome?
What Is Metabolic Syndrome?
Metabolic syndrome is characterized by any 3 of the following conditions: central obesity, elevated blood pressure, elevated fasting glucose, high triglycerides and high LDL (low-density lipoprotein)[2].
It usually includes excess body fat around the waist. You can be a perfectly average weight and have metabolic syndrome, especially if you have extra belly fat.
Metabolic syndrome is a gateway to stroke, heart attack and diabetes, itself a horrible disease that makes every other chronic disease, such as cancer, cardiovascular disease, or dementia, worse. Metabolic syndrome is also believed to be the same thing as pre-diabetes, just diagnosed with different biomarkers.
In other words, your body no longer knows how to burn fat properly, and your metabolism slows down. How does this happen?
How Do You Get Metabolic Syndrome?
As part of the digestive process, your body breaks down your food into sugar (glucose) for your body to use as energy. Insulin is the hormone that your body produces to help sugar enter your cells to be used as fuel. Because high levels of sugar in your blood are toxic, your body must store that excess sugar as fat.
When you have insulin resistance, and your body can no longer efficiently break down food and use it as energy. So what does it do instead? It stores it as fat. This puts you on the path to the metabolic syndrome. It also means that more and more sugar enters your bloodstream, creating a condition called pre-diabetes.
Even if you don't progress all the way to diabetes, this condition can make it impossible to lose weight – if you do the same things you have been doing.
Fundamentally, metabolic syndrome is caused by eating more food—especially sugar and refined carbs, but also unhealthy fats—than your body is able to use or even store in a healthy manner[3]. In addition to overweight, an important warning sign is waist circumference greater than 35 inches (89 cm) in women and 40 (102 cm) in men. In comparison, it's a good idea to keep your waist circumference half of your height.
Being Overweight Is Inherently Unhealthy
Of course being overweight or obese are not the only causes of metabolic syndrome. You can be, and some people are, slim and metabolically unhealthy[4]: the culprit is almost always high levels of sugar, refined carbs (that the body readily converts to sugar), and cheap oils in the diet.
Sometimes refined carbs can come in innocent packages—the white rice in your all-vegetable stir-fry, the wheat bread for your egg salad sandwich—with oils that tip your body over the edge to metabolically-derailing inflammation. Less insipid but no less dangerous, processed food is carefully optimized with sugar, salt and fat to make us be unable to eat anything other than the whole package, once we've opened it. Likewise, the diet industry has historically relied very heavily on processed foods—which often incorporate artificial sweeteners (themselves linked to weight gain)—rather than real foods. And even the so-called reputable companies seem to encourage women, in particular, to eat so little so that the minute they start eating normally, they regain everything they've lost, and then some.
The other culprit of metabolic syndrome is lack of exercise. Any nutritionist will tell you that the difference between the overweight person (especially kid) who becomes diabetic, and the one who doesn't, is exercise. Exercise, even if not intense and strenuous exercise, helps your body cope with a diet too rich in energy.
However, the Annals of Internal Medicine recently published a meta-analysis of metabolism-related studies going back to the 1950s[5]. The results? People who didn't have markers of metabolic syndrome (such as elevated blood pressure and cholesterol) but who did have a higher-than-normal BMI (body mass index) had a higher risk of cardiovascular disease and premature death than their peers in the normal weight range.
Discussions about the harm of obesity rarely discuss the orthopedic damage that carrying massive amounts of excess weight do to the human body. Nevertheless, we are simply not designed to carry significant amounts of excess fat: it's hard on our spine, our shoulders and other joints, and our feet. Ironically, this often interferes with the desire to exercise, discouraging a key component of the solution. But it doesn't make it impossible.
By now you must be asking…
What Can I Do About Metabolic Syndrome?
Reversing the issue of metabolic syndrome is up to you. There is no pill to pop. There's no magic fad diet that will reverse years of imbalance.
But there is a road map that can bring you to your goal.
Long-term, sustainable weight loss is not about dropping 2 or 3 dress sizes in a week or trying for 6-pack abs in two weeks.
And long-term, sustainable weight loss isn't about going hungry or shocking your system with a high-fiber but very low-calorie diet. If you're trying to lose weight and keep it off, hunger is actually your enemy. You can only resist it for so long, and then you find yourself eating all the things.
It also doesn't require deprivation: sometimes we do need to treat ourselves, within reason. Refusing to permit ourselves reasonable indulgences just means that we end up hating fruits and vegetables while eating a whole steak and the entire container of ice cream. In one sitting. And worse? Not enjoying them nearly as much as we would if we had simply ate reasonable amounts when we first wanted them. Food is one of life's great pleasures and it's important to enjoy it.
Long-term, sustainable weight loss is about eliminating the added sugar and refined carbs from your diet: processed foods are full of these and they add no nutritional value. It's learning to resist the cues and advertising that tell you to eat a lot, all the time, whether you're hungry or not, and make junk food a staple. It's about being honest about why you're eating. It's about eating real, whole foods in the right combinations—and getting your family to change with you. And to help you.
It's also important to start some sort of exercise program, beginning where you are and taking gradual steps to ramp up the intensity as you get stronger.
When you do these things, you will lose weight, your numbers will improve and you will feel better so you can do the things you want to with the people you love. If you're interesting in eating tasty, nourishing food so you can lose weight to feel great and be healthy at a weight that's right for you, click here to learn more about the Trim Down Club.

References
[2] American Heart Association. About Metabolic Syndrome. 2014. Dallas: American Heart Association. Retrieved from http://www.heart.org/HEARTORG/Conditions/More/MetabolicSyndrome/About-Metabolic-Syndrome_UCM_301920_Article.jsp.
[3] Jia G, et al. Overnutrition, mTOR signaling, and cardiovascular diseases. Am J Physiol Regul Integr Comp Physiol. 2014 Nov 15;307(10):R1198-206.
[5] Kramer CK et al. Are metabolically healthy overweight and obesity benign conditions?: A systematic review and meta-analysis. Ann Intern Med. 2013 Dec 3;159(11):758-69.