Research shows that cold weather activates your body's fat burning furnace.

Here's how:

We're mammals. We're designed to wear our extra food as fat: as stored insulation and an energy reserve against the lean times that were always just around the corner in human history until a generation or two ago.
By definition, that means we're designed to burn fat as well as store it. How? Through exercise, pregnancy and nursing (which impose a huge calorie burden on women) and by keeping the body warm during cold weather and cold nights. (If you've never lived in them, it's surprising how cold tropical and desert areas can get at night, during the monsoon season, and in winter.)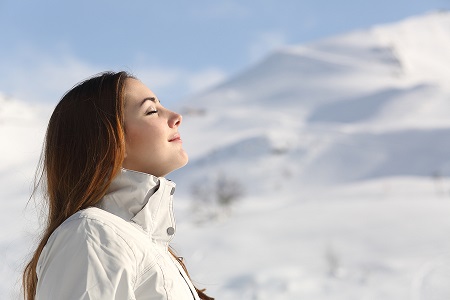 Your body has several types of fat, or
adipose
, tissue. White adipose tissue (WAT, or white fat) is what we commonly think of as fat. It actually burns a few calories (2 calories per pound a day, and 4.5 per kg) compared to muscle (about 6 per pound per day, and 13 per kg), but its primary role is to serve as stored energy. Brown adipose tissue (BAT, or brown fat) is also fat, but its job is to
burn white fat. 
Brown fat has more capillaries than white fat and functions more like muscle, which also burns energy.   Small mammals and newborn humans have a lot of brown fat: about 5% of body weight for human neonates. We used to think that as humans matured and gained the ability to regulate body temperature, our brown fat disappeared.
It doesn't. And you can activate it by using cold. In a fascinating study published in the medical journal Diabetes, a research team led by Dr. Paul Lee of the Diabetes, Endocrinology, and Obesity Branch of the National Institute of Diabetes and Digestive and Kidney Diseases (NIDDK), followed five men, 19 to 23 years old, for 4 months. When the men slept in mildly cold rooms (19⁰C, or about 66⁰F), their brown fat activity increased by 30-40% compared to a baseline established at a neutral temperature of 24⁰C/75⁰F. When the room temperature was raised to 27⁰C/80⁰F brown fat activity decreased below the neutral temperature baseline, and increased back to baseline when the temperatures were restored to neutral temperature of 24⁰C/75⁰F.[1]
Using cold to help your body lose weight doesn't require brute force, such as keeping your house so cold you can see your breath in the living room. And you certainly cannot freeze yourself thin.
What you can do is lose some weight—how much depends on a huge variety of factors, including your own resting metabolic rate—by making mild cold exposure work for you. For example, take walks in the cold without being incredibly rugged up in a turtleneck under a vest under a sweater under a down jacket. Rather, wear fewer layers and take a brisk walk, allowing your body to work to keep you warm. If you find yourself asking, "Do I need a jacket or not?" leave the jacket at home. Turn off the space heater at your desk. Keep your bedroom cool (no more than 19⁰C/66°F degrees in the winter and use your body heat to warm up the bed). Traditionally, humans blanketed because our bedrooms were cold. Now many of us heat our bedrooms and blanket. The result? Your body doesn't have to burn fat for energy to maintain your core temperature, resulting in increased fat-storing, especially in the winter when you naturally eat more.
We are accustomed to being supremely comfortable at all times. However, this prevents our bodies from functioning as they were designed to: we are all the descendants of a long line of successful survivors of some very uncomfortable lives. Using cold to increase thermogenesis (heat production) leading to fat loss means being mildly uncomfortable until we acclimatize to the cold. The result? A faster metabolism that naturally produces more energy.
And who doesn't want that?
Instead of gaining weight during the cold season, you can lose it with the Trim Down Club's customized menu planner and tools. Click here to learn more.

[1] Lee P, Smith S, Linderman J, Courville A, Brychta R, Dieckmann W, Werner C, Chen K, and Celi F. Temperature-Acclimated Brown Adipose Tissue Modulates Insulin Sensitivity in Humans. Diabetes November 2014 63:11 3686-3698;, doi:10.2337/db14-0513