Attention all chocolate lovers: True, chocolate has a lot of calories and fat – but it also has many nutritional benefits.
For example, it has been linked in studies to improved mood and energy and to contribute to a healthier heart.
It is no accident that chocolate has long been used to provide comfort to both body and soul!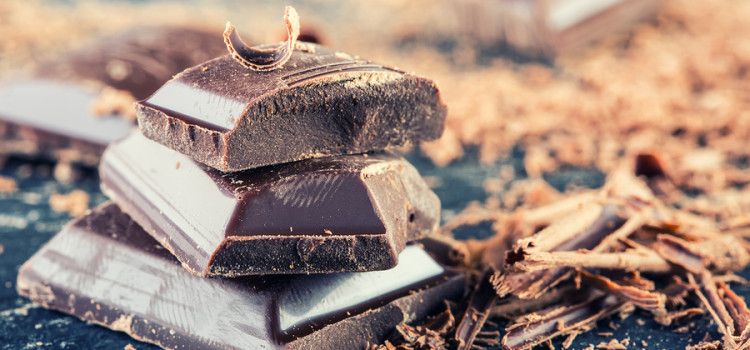 Your brain on chocolate
According to a new study, the flavanol component of cocoa has been found to be beneficial in improving the cognitive function and reducing high blood pressure in the elderly patients who presented with symptoms of mild cognitive impairment. The study author Giovambattista Desideri, who is an associate professor of internal medicine and public health at the University of L'Aquila in Italy wrote that the study demonstrated that regular consumption of flavanols present in cocoa improves cognitive function. Hence, cocoa may be used as a complementary treatment strategy to manage patients with early dementia. This news comes on the tail of several others that found benefits to mood and memory in both animal models and humans.
Eating chocolate increases the blood flow to the brain, thereby improving the health of brain cells. The risk of stroke is also reduced by eating chocolate. Several chemicals, including phenylethylamine (PEA) are found in chocolate. This chemical is similar to the chemical that is produced by your brain when you fall in love. PEA may help your brain to increase the amount of endorphins released in the body, thereby making you feel happier.
Give your heart to chocolate
According to several studies, the risk of heart disease is reduced by consuming dark chocolate. Eating dark chocolate two to three times per week was noted to potentially aid in lowering high blood pressure. Further, the risk of atherosclerosis may be reduced by eating dark chocolate, and for this and other contributions, the blood flow to the heart may be improved and risk of clot formation reduced.
How sweet it is: chocolate can help to control blood sugar
The flavonoids present in dark chocolate may improve the body's ability to use insulin effectively. This helps in reducing the development of insulin resistance, high blood sugar, type 2 diabetes, and the various serious medical conditions that come with it. Chocolate may also improve the health of your blood vessels and circulation, an additional layer of potential protection. Moreover, the glycemic index of dark chocolate is generally low, meaning that when eaten in moderation, it you may not experience spikes in blood sugar or fats (triglycerides).
As good as gold: chocolate is rich in phytonutrients and more
Phytonutrients are plant chemicals found to be beneficial to the body. Most act through antioxidant and anti-inflammatory properties. Antioxidants are substances that help in combating the effects of damaging free radicals, and are associated with aging of cells and also may be a possible cause of various diseases, including cancers and heart disease. Anti-inflammatory compounds are favored for strengthening the body's cells and tissues, and – because obesity is an inflammatory condition – to exert potential benefits in weight management as well. Hence, eating foods that are rich in phytonutrients such as dark chocolate may protect against processes leading to the negative aspects of aging and risk of overweight.
Dark chocolate is also a source of a variety of vitamins and minerals, including copper, potassium, iron, and magnesium, all of which may help support your health. Copper and magnesium decrease the risk of stroke and cardiovascular disease, iron prevents the development of iron deficiency anemia, and magnesium helps in reducing the risk of high blood pressure, type 2 diabetes, and heart disease.
Choosing the best of the best
To get the most from your chocolate, it is important to look for some key factors:
1. High percent cacao/cocoa – 70% and above is considered ideal
2. Organic sources – to avoid harmful herbicides and/or pesticides that may be used in conventional chocolate production
3. No added fats – the natural 'cocoa butter' in chocolate beans provides plenty of fat to make a delectable product
4. Quality sweetener(s) – avoid fructose, refined sugar, or artificial non-caloric substitutes, and instead go for coconut sugar or nectar, organic whole cane juice, inulin (chicory root), monk fruit, Stevia, or xylitol.
5. Moderation! Though there are numerous health benefits associated with chocolate, it is still a very dense food, high in fat and often sugar, and so should be eaten in moderation.
One ounce or 28 grams of good quality dark chocolate yields an average of 10-12 grams of fat (5-7 grams saturated), 10-15 grams of carbohydrates, and 2-4 grams of protein, and if made with whole cacao/cocoa beans, may provide some fiber.
Still a treat
So- assuming you have the right kind of natural dark chocolate, and assuming you are eating it in moderation- then you can go ahead and treat yourself!
References
Grassi D, Socci V, Tempesta D, Ferri C, De Gennaro L, Desideri G, Ferrara M. Flavanol-rich chocolate acutely improves arterial function and working memory performance counteracting the effects of sleep deprivation in healthy individuals. J Hypertens. 2016 Jul;34(7):1298-308.
Grassi D, Ferri C, Desideri G. Brain Protection and Cognitive Function: Cocoa Flavonoids as Nutraceuticals. Curr Pharm Des. 2016;22(2):145-51.
Grassi D, Desideri G, Necozione S, Ruggieri F, Blumberg JB, Stornello M, Ferri C. Protective effects of flavanol-rich dark chocolate on endothelial function and wave reflection during acute hyperglycemia. Hypertension. 2012 Sep;60(3):827-32