Enjoy this simple, yet very festive meal with a potpourri of colorful and flavorful ingredients. The celery root lends a mild flavor and combines well with wild rice, other vegetables, and beans to complete a hearty dish.
Click to get more Easy, Healthy Recipes
Preparation Time

20 minutes

Cooking Time

45 minutes

Serves

10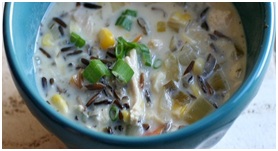 Ingredients
2 cups / 320 gm wild rice, uncooked
2 oz. / 60 g dairy or nut* butter
1 cup / 156 g celery root, chopped
1 cup / 90 g + ¼ cup / 22 g leeks, chopped
1 cup / 75 g potatoes, diced
1 celery rib / 40 g, diced
½ cup / 60 g carrots (1 medium), diced
½ cup / 170 g chickpeas/garbanzo beans, low-sodium, cooked or canned and drained
½ cup / 120 g organic vegan* or Greek yogurt
6 cups / 1440 ml vegetable stock/broth, low-sodium
Ground black pepper to taste (optional)
---
Directions
In a large pan, cook the wild rice with enough water to cover; bring to a boil and then simmer covered for 30 minutes until tender.
Meanwhile, in a soup pot, melt the butter or heat the oil, and stir in the vegetables (save for the leeks) and dash of salt.
Cook over high heat for 5 minutes, then add the vegetable stock.
Bring to a rolling boil, then reduce heat; simmer for approximately 20 minutes.
Stir in the wild rice and yogurt; simmer for about 10 minutes more.
Garnish with the remaining chopped leeks and serve immediately.
---
Nutritional Information per Serving
Calories:
 218 kcal
Fat:
 6.5 g
Carbohydrates:
 34.7 g
Cholesterol:
 0*-16.2 mg
Fiber:
 3.8 g
Protein:
 6.7 g
Saturated fat:
 3.7 g
Sodium:
123.6 mg
Sugar:
 4.4 g
Trans fat:
0.2 g
Unsaturated fat:
 2.3 g
Serving Size: 1 cup / 240 ml
Exchanges per Serving: 2 Carb, 1 Protein, 0 Fat
---