This recipe is an old baked potato favorite, with tomatoes and broccoli added to further enhance the flavors. You may have this with your favorite chicken or turkey dish, or simply enjoy it as a one-pot meal. Gluten-free and can be vegan and Paleo-friendly.
Click to get more Easy, Healthy Recipes
Preparation Time

20 minutes

Cooking Time

55 minutes

Difficulty Rating

1

Serves

4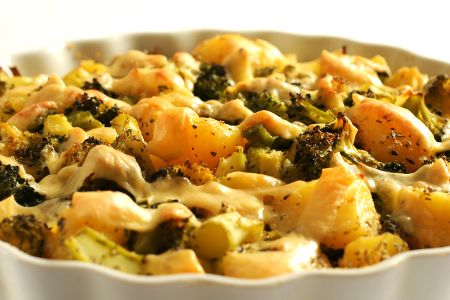 Ingredients
1 lb / 450 g white, sweet, or purple potatoes, thinly sliced
1 cup / 90 g broccoli chopped
3 omega-3 or grass-fed/pasture-raised eggs (optional)
1 large tomato, chopped
2 tsp. / 10 ml olive oil
1 medium yellow or red onion, diced
½ cup / 120 ml organic grass-fed or vegan milk (unflavored)
1½ tsp. / 5 g whole brown rice flour or kudzu root dissolved in 1 Tbsp. / 15 ml water
½ cup / 120 g organic and/or grass-fed cottage cheese (optional)
½ cup / 120 g organic, grass-fed or vegan meltable cheese, grated
---
Directions
Preheat your oven to 350°F / 180°C.
In a flat baking dish, arrange the potatoes in a neat layer and top them with the chopped broccoli.
If desired, whisk the eggs in a bowl and season with pepper and salt to taste, then pour onto the potato layers. Add the chopped tomatoes.
In a saucepan, melt the butter or heat the oil over medium heat. Add the onion and sauté for about 3 minutes until skin turns translucent.
Stir in the milk and flour or kudzu mixture; cook for 2 minutes, then add the cheese. Stir to blend well.
Turn off the heat and pour this mixture over the potato, broccoli, and tomato layers.
Place the baking dish in the preheated oven, cover with foil, and bake for approximately 55* minutes.
Let stand for 10 minutes or so before serving.
*For less baking time, steam the potato slices for 5-10 minutes before placing them in the baking dish. Bake with the toppings for 15 minutes.
Serving Size:
1½ cups / 340 ml
Exchanges per Serving: 1½
 Carb, 1½ Protein, ½ Fat, 1 Veg
---