A crispy, spicy alternative to plain fish steaks or patties.
Click to get more Easy, Healthy Recipes
Preparation Time

20 minutes

Baking Time

15 minutes

Difficulty Rating

2

Serves

2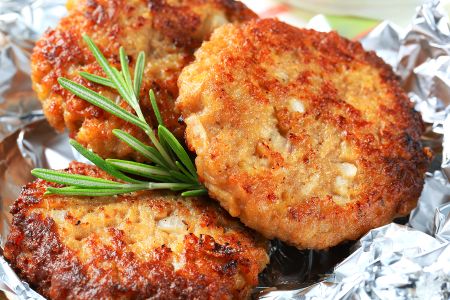 Ingredients
5 oz. / 140 g fresh tuna
½ cup / 75 g potatoes
½ medium onion, finely chopped
1 tsp / 2 g finely chopped ginger
2 tsp / 6 g finely chopped garlic
1 tsp / 5 ml olive oil
½ tsp / 3 gm salt
1 cup / 240 ml water
---
Directions
Preheat oven to 350°F / 180°C. Brush a small baking pan with ½ teaspoon / 2½ ml oil.
Boil the potatoes until they are very soft. Mash them thoroughly, either with a hand tool or in a mixer, until smooth without any lumps. Cover and set aside.
In a small shallow pan, boil the fish in 1 cup of water for about 5 minutes. In a shallow bowl, add the mashed potatoes, cooked fish, and finely chopped onions, ginger, and garlic, and blend well until you get a uniform mixture. Refrigerate for 15 minutes.
After 15 minutes, remove from the refrigerator. Make balls out of the mix, and then flatten each ball with your palm to form a cutlet-like shape.
Place the cutlets in the prepared baking dish and brush remaining oil  on the tops.
Place the dish on the middle rack off the oven, and bake for 15 minutes. The cutlets can be considered done when both sides are crisp and dark brown in color.
Comments
Serving Size:

1 cutlet
Exchanges per Serving: 1 Carb, 2 Protein
---