A simple classic blends two favorites – burger and smothered steak – with a healthy touch to make the satisfying centerpiece of a sensible supper.
Click to get more Easy, Healthy Recipes
Preparation Time

20 minutes

Cooking Time

25 minutes

Difficulty Rating

1

Serves

8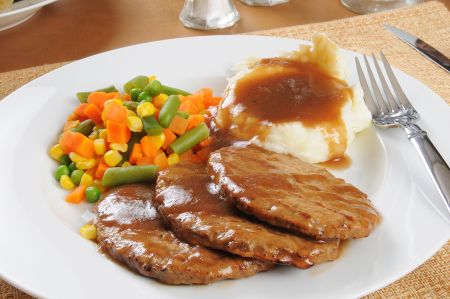 Ingredients
16 oz / 454 g extra-lean ground beef, preferably pastured
½ cup / 60 g whole grain breadcrumbs or toasted almond meal
2 egg whites or 1 egg, preferably organic omega-3 or pastured
¼ cup / 60 ml water
¼ tsp. / 0.7 g freshly ground black pepper
1 small clove fresh garlic, minced
½ tsp. / 1½ g garlic powder
1 Tbsp. / 14 ml olive oil (optional)
1 cup / 70 g mushrooms, sliced (optional)
¾ cup / 180 ml water
2 Tbsp. / 33 g ml tomato paste, preferably organic
1 Tbsp. / 15 ml Worcestershire sauce
1 Tbsp. / 15 ml Madeira wine or dry sherry (optional)
---
Directions
Combine first 6 ingredients.
Divide mixture into equal portions, shaping each into a ½-1 inch / 1-2½ cm thick patty.
Warm a large non-stick lidded skillet over medium-high heat. Add patties; cook for 3 minutes on each side, or until evenly browned. Remove patties from pan; keep warm.
Mushrooms (optional): Heat oil in pan, add mushroom slices and cover, stirring occasionally, until soft.
Add water and remaining ingredients to the pan. Bring to a boil.
Return patties, then cover, reduce heat, and simmer for 10 minutes.
Uncover and cook until wine mixture is reduced to ¾ cup / 180 ml, about 10 minutes.
Remove from heat and serve hot, or freeze to be re-heated later.
Serving Size: ֲ4-oz / 120-g patty
Exchanges per Serving: ½ Carb, 2 Protein, 1 Fat
---