You can never go wrong with poached eggs for breakfast. Throw in a few extras, and you've got a hearty morning meal!
Click to get more Easy, Healthy Recipes
Preparation Time

10 minutes

Cooking Time

20 minutes

Difficulty Rating

1

Serves

4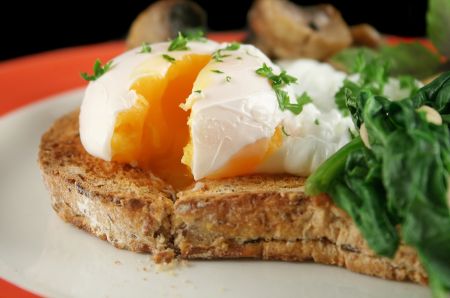 Ingredients
4 organic omega-3 or pastured eggs
4 mushrooms
2 Tbsp. / 30 ml olive oil
Ground black pepper, to taste
1 bunch spinach leaves
2 SWG* English muffins, toasted (* Sprouted whole grain)
Hollandaise sauce (see recipe below)
Hollandaise Sauce
3 omega-3 or grass-fed egg yolks
2 Tbsp. / 30 ml water
1 Tbsp. / 15 ml freshly squeezed lemon juice
2 tsp. / 10 g butter, pasture-raised
---
Directions
Fill a large non-stick frying pan with water and bring to a boil. Reduce heat to simmer.
Gently break each egg into a teacup, 1 at a time and slide into the simmering water. Simmer the eggs for 2 minutes.
Turn off the heat and let the eggs stand in the water for about 10 minutes. Remove the eggs from the pan with a slotted spoon and set aside.
Place the spinach in a large bowl and pour boiling water over it. Stir until wilted, and then drain thoroughly.
Preheat the grill.
Coat the mushrooms with olive oil and place gill-side up on an oven tray.
Sprinkle pepper, if desired. Cook the mushrooms under the grill for about 8 minutes.
Make the hollandaise sauce just before serving.
Place the egg yolks, water, and lemon juice in a blender, and whisk briskly.
In a saucepan over medium heat, melt butter, remove from the heat and pour into the blender in a thin, steady stream.
Toast the English muffins, cut into halves, and place on a serving plate. Top each half with a helping of spinach, a roasted mushroom, and the poached egg.
Pour warm Hollandaise sauce over the eggs and serve at once.
Serving Size: 1 slice + 1 egg
Exchanges per Serving: 1 Carb, 2 Protein, 1 Fat
---