Stuffing is as popular a Thanksgiving indulgence as it is a low-carber's, no-grainer's nightmare. Make your holiday dreams come true in this Native American-inspired, Paleo-friendly, gluten-free, low-carb, keto-friendly slice of heaven.
Click to get more Easy, Healthy Recipes
Preparation Time

30 minutes

Cooking Time

40 minutes

Difficulty Rating

2

Health Level

5

Serves

16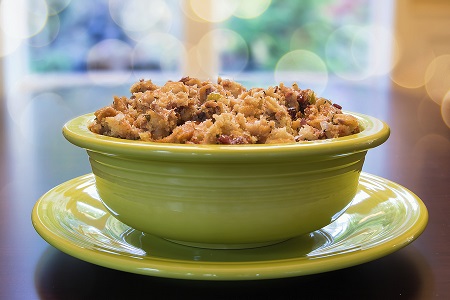 Ingredients
Grainless/Low-Carb Bread
2 cups / 230 g hazelnuts, finely ground
1 cup / 170 g flaxseeds, finely ground
8 eggs, preferably organic omega-3 or pastured or:

⅔ cup / 160 ml flaxseed gel + 1⅓ cup / 320 ml prepared egg white replacer (¼ cup / 38 g mixed with 1 cup / 240 ml water)

½ tsp. / 3 g salt, preferably native saltpan type
1 tsp. / 5 ml high-oleic safflower/sunflower or olive oil, for misting
Additional Ingredients
2+ tsp. / 10+ g high-oleic safflower/sunflower or olive oil
1 medium red onion, chopped
1 clove fresh garlic, minced
1½ cup / 160 g fresh celery and leaves, chopped
¾ cup / 120 g pine nuts, toasted
1 Tbsp. / 5 g ground sumac
1 Tbsp. / 2 g fresh sage leaves, chopped or:
Salt to taste, preferably native saltpan type
2 cups / 480 ml turkey stock, homemade* or prepared, preferably organic low-sodium
* Turkey Stock
Turkey gizzards, heart, and neck from 1 turkey, cut into 1-inch / 2.5 cm section
1 Tbsp. / 14 ml high-oleic safflower or sunflower oil
1 tsp. / 5 g total ground black pepper, minced garlic, parsley, and thyme
2½ cups / 600 ml water
---
Directions
For Bread
Preheat oven to 350°F / 180°C. Mist 8×8-in/20×20-cm baking pan with oil.
In a small bowl, beat eggs or whisk together flaxseed gel and white replacer.
In a large bowl, blend together hazelnut and flax meals with salt, then add egg/replacers; mix well.
Pour into a well-greased mini-loaf pan.
Bake for 20-25 minutes, until golden on top and inserted knife or toothpick comes out clean.
Remove from oven (do not turn off), and allow to cool before cutting.
For Stuffing
Mist baking sheet with oil.
Cut cooled bread into cubes, and place on baking sheet in a single layer. Mist the cubes.
Place baking sheet in oven, and bake for approximately 15 minutes, turning each to ensure even browning and crisping on all sides.
In the meantime, warm oil in a lidded pan over medium-high heat. Add onion and garlic, and saute until translucent and lightly browned, about 3-5 minutes.
Add in remaining ingredients (except bread cubes), reduce heat to low, cover, and simmer until celery is gender, about 10 minutes.
Turn off stove and add in toasted bread cubes. Combine well.
You can serve as is, or bake the combination for 15 minutes for optimal texture and flavor.
Serving size:
½ cup / 100 g
Exchanges per Serving:
½ Carb, 1¼ Protein, 2 Fat
---