Two breakfast favorites come together in harmony with fresh fruits and your favorite syrup. Yummilicious!
Click to get more Easy, Healthy Recipes
Preparation Time

12 hours

Cooking Time

20 minutes

Difficulty Rating

1

Serves

8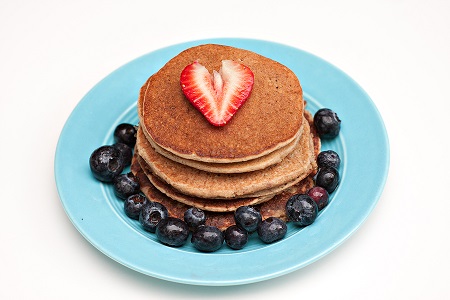 Ingredients
3 cups / 720 ml milk, preferably organic pastured or vegan
1 cup / 150 g steel-cut/whole oats, uncooked
3 eggs, preferably organic omega-3 or pastured, well beaten or 1½ Tbsp. flour-based egg-replacer whisked with 6 Tbsp. water
¼ cup / 30 g quinoa flour, lightly toasted
Dash of salt
1½ tsp. / 7½ g baking powder, aluminum-free
1 Tbsp. / 15 ml macadamia nut oil or organic canola or low-erucic rapeseed oil
2 cups / 330 g berries, preferably organic
1 tsp. / 5 ml Stevia or monk fruit sweetener
Your choice of syrup (optional)
Butter or vegan buttery spread (optional)
---
Directions
Sprinkle the liquid sweetener on the berries, and let steep.
In a large bowl, stir the milk into the oats; steep the oats in milk for 12 hours.
When the oats are soft, mix in the eggs/replacer with the quinoa flour, oil, salt, and baking powder.
Heat a griddle, brushed lightly with oil, over medium-high heat.
Pour half a cup of batter on the center of the griddle. Cook until air bubbles appear.
Flip the pancake and cook for about a minute more.
Serve with fresh berries.
Top with butter or buttery spread (1 tsp. / 5 g = 1 fat serving) and/or syrup (1 Tbsp. / 15 ml = 1 carb serving), if desired.
Serving Size:
ֲ1 pancake
Exchanges per Serving: 1
 Carb, 1 Protein
---