Candied, brightly-colored root vegetables are a part of holiday traditions. Don't think that's all over just because you're cutting carbs!
Click to get more Easy, Healthy Recipes
Preparation Time

15 minutes

Cooking Time

30 minutes

Difficulty Rating

1

Health Level

5

Serves

20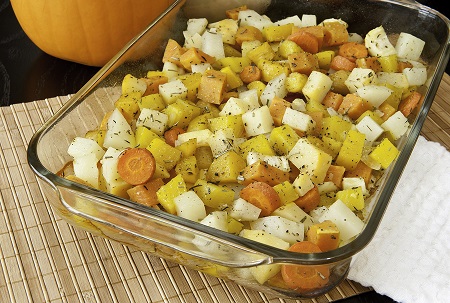 Ingredients
2 medium rutabagas/Swedes (total weight: 2 lbs. / 900 g)
2 medium turnips (total weight: 8 oz / 230 g) turnips
2 carrots (total weight: 4 oz / 120 g)
1 small jicama (total weight: 1 lb. / 450 g)
1 cup / 240 g brown inulin sweetener or:

2 tsp. / 10 ml or 13 g molasses + 1 cup / 240 g xylitol

4 quarts / 4 L water
1 Tbsp. / 14 ml "good" oil, preferably coconut, pecan, or other "sweet" nut oil of choice
1 tsp. / 2 g ground allspice or:

combination of ground cinnamon, nutmeg, cloves, and/or black pepper

1 tsp. / 8 g filé or sassafras seasoning (optional)
---
Directions
Wash and peel the first 4 vegetables. Slice into ¼-inch / ½-cm thick rounds or and cut into ½-inch / 1-cm cubes.
Dissolve sweetener(s) in ⅔ cup / 120 ml boiling water. Add half the seasoning(s), and blend well.
Warm 1 tablespoon / 14 ml oil in a six-quart non-stick pot over medium-high heat. Add the sliced/cut vegetables, and brown lightly on all sides, about 5-10 minutes.
Add seasoned and remaining water, and bring to a boil. Cover, reduce heat, and simmer until vegetables are tender, about 10 minutes.
Pour the cooked vegetables into a lidded casserole dish. Add the seasoned syrup mixture, and toss until well-coated. Cover and place in oven for 15 minutes, basting with the liquid until it has been absorbed and the vegetables appear "glazed".

Serve hot. Can be chilled or frozen and reheated.
Serving size:½ cup / 120 g
Exchanges per Serving: ½ Carb, 0 Protein, 0 Fat
---