So many granolas are full of sugar and fat, but they don't need to be! Try this quick and simple recipe for an energizing, trouble-free breakfast.
Click to get more Easy, Healthy Recipes
Preparation Time

10 minutes

Cooking Time

20 minutes

Difficulty Rating

1

Health Level

5

Serves

24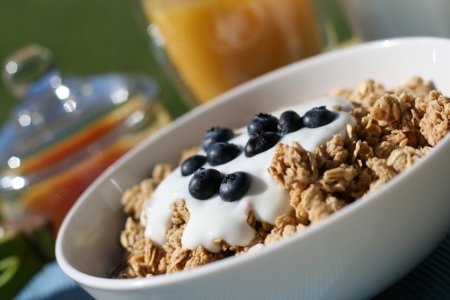 Ingredients
3½ cups / 550 gm regular whole oats (not instant)
½ cup / 60 gm chopped walnuts, raw or oven-toasted
½ cup / 70 gm sliced almonds, raw or oven-toasted
½ cup / 70 gm seeds (pumpkin, sunflower, flax, chia)
½ cup / 70 gm chopped organic dried fruit, currants, and/or raisins
½ cup / 115 g wheat germ, unsweetened
¼ cup / 60 ml olive, almond, or hazelnut oil
⅓ cup / 80 ml regular or date honey, no-sugar-added
½ tsp. / 1½ gm cinnamon (optional)
---
Directions
Preheat oven to 325°F / 160°C for regular granola, 120°F / 50°C for raw granola. Brush or mist a cookie sheet with oil.
In a large bowl, mix together nuts, seeds, wheat germ, and dried fruit (as well as cinnamon, if desired).
In a small saucepan over low heat, add oil and honey, and cook until liquid in consistently. Pour over the dry ingredients and mix thoroughly.
Spread a ½-1 inch / 1¼ – 2½ cm thick layer of the mixture onto the cookie sheet.
For regular granola, bake for 10-15 minutes, until golden brown, then mix and turn the granola.
Bake 5-10 more minutes (10 minutes for extra-crispy).
For raw granola, bake for 45 minutes on each side at the lower temperature noted above, leaving the oven door slightly ajar for airflow.
Cool completely before storage.
Serving Size: ¼ cup
Exchanges per Serving: 1¼ Carb, ½ Protein, 1 Fat
---