Eggplant Parmesan lightened up. Gluten-free, Paleo-friendly, and vegan-friendly.
Click to get more Easy, Healthy Recipes
Preparation Time

10 minutes + 1 hour

Cooking Time

20 minutes

Difficulty Rating

1

Health Level

5

Serves

8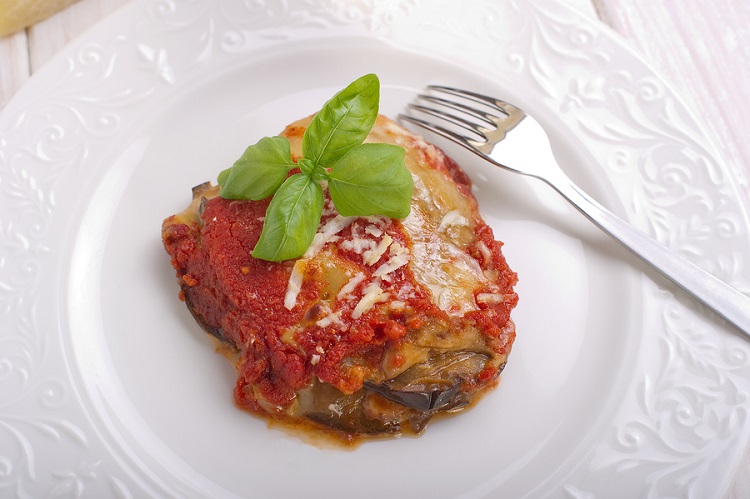 Ingredients
1 medium eggplant/aubergine, sliced
½ cup / 120 ml water
1 Tbsp. / 15 ml olive oil
½ cup / 100 g red or yellow onion, chopped
1 clove fresh garlic, chopped
2 cups / 480 ml stewed tomatoes, preferably without added sodium
½ cup / 16 g fresh mixed herbs (e.g., parsley, basil, oregano, thyme) or:
½ cup / 60 g Parmesan cheese, grated or:
---
Directions
Preheat oven to 350°F / 180°C. Brush baking 9-inch / 23-cm square (or similar size) lidded baking dish with 1 teaspoon / 5 m oil.

Optional:To reduce aubergine bitterness and bite, salt slices on both sides, and set aside to "weep" for 1 hour; after 1 hour, rinse the aubergine slices, and pat them dry.

Place aubergine slices in prepared baking dish, and brush tops with 1 teaspoon / 5 m oil. Pour water over slices, cover dish, and place in oven; bake for 10 minutes, or until slices are nearly cooked through.
Meanwhile, warm remaining oil in a non-stick lidded skillet over high heat. Add garlic and onions, and fry until translucent and soft, about 1 minute.
Add tomatoes an herbs, cover, reduce heat to low, and simmer for 10 minutes.
Pour tomato mixture over eggplants, sprinkle with Parmesan cheese or nutritional yeast, and bake for an additional 10 minutes.
Serving size: 1 cup / 200 g
Exchanges per Serving: ⅓ Carb, ⅓ Protein, ⅓ Fat, 1 Veg
---