The young green soybean known as edamame usually enjoyed boiled and lightly salted. But this nutrition powerhouse is just as delicious mashed and seasoned, then spread on whole grain crackers or bread – transforming a snack into a super source of high-quality vegan protein.
Click to get more Easy, Healthy Recipes
Preparation Time

9 minutes

Cooking Time

6 minutes

Difficulty Rating

1

Health Level

5

Serves

4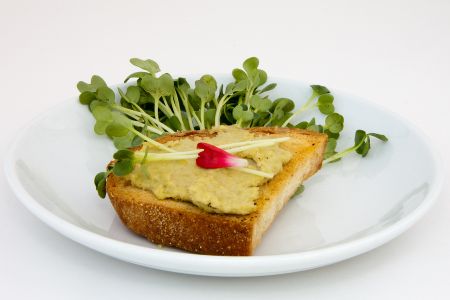 Ingredients
6 ounces (1 cup) / 170 g edamame
2 Tbsp. / 40 g diced onion
2 / ½ g tightly packed fresh cilantro/coriander or parsley leaves
1 small / 2-3 g garlic clove, sliced
2 Tbsp. / 30 ml freshly squeezed lime or lemon juice
½ Tbsp. / 9 g brown miso
⅛ tsp. / ¼ g ground black pepper
2 Tbsp. / 45 ml olive oil
Salt or substitute to taste
---
Directions
Add 2-4 cups of water to a 2-quart pot, and bring to a boil. Place the edamame into the water in small handfuls. If fresh, cook for minutes; if frozen, cook for 5-6 minutes. If microwaving, place in a glass bowl and microwave on high for 4-6 minutes. Drain any excess water. Cool and shell.
Place the edamame, onion, cilantro, garlic, lime juice, miso, salt or substitute, chili paste and pepper into a food processor and process on and off until you reach the desired consistency, stopping as needed to scrape down the sides of the bowl and drizzle in the olive oil. Add water if needed to adjust consistency. Taste and adjust seasoning, as desired
Store in an airtight container for up to 5 days.
Serving size: ¼ cup
Exchanges per Serving: 0 Carb, ½ Protein, 1½ Fat
---